Umbrage the Travelling Bear
From time to time, our mascot, Umbrage the teddy bear, has helped us raise awareness of the work we do to support unpaid carers. With Carers Week coming up at the beginning of June, we would like to feature Umbrage on his holidays – resting, with friends, on the beach, and spending time with family. All the things us humans love doing.
After Umbrage is all about taking a much-needed break. We ask for your help to reach more people with this message. That, creating happy memories with family and friends really matters.  It makes people smile, it boosts wellbeing, it helps us recharge our batteries to continue our work – whatever form that might take.
Can you take photographs of your teddy bear when you are out and about? It doesn't have to be on holiday.
Next Section
Umbrage on Tour
Let's keep things simple. Umbrage represents all teddy bears who are loved and cared for. So, your teddy bear can participate in this campaign. Here's how:
 •  Take your teddy bear out and about with you – wherever you are going.
 •  Photograph him/her with your family or on his/her own.
 •  Share your photos on Facebook, Instagram or Twitter and tag @afterumbrage
 •  If you prefer, send your photos us us via email to tracy@afterumbrage.org.uk
 •  Have fun!
 •  And help us reach more unpaid carers, fundraisers, referrers and supporters.
Let's create some smiles, engage your children, and get them to share our small charity with people we haven't met – yet!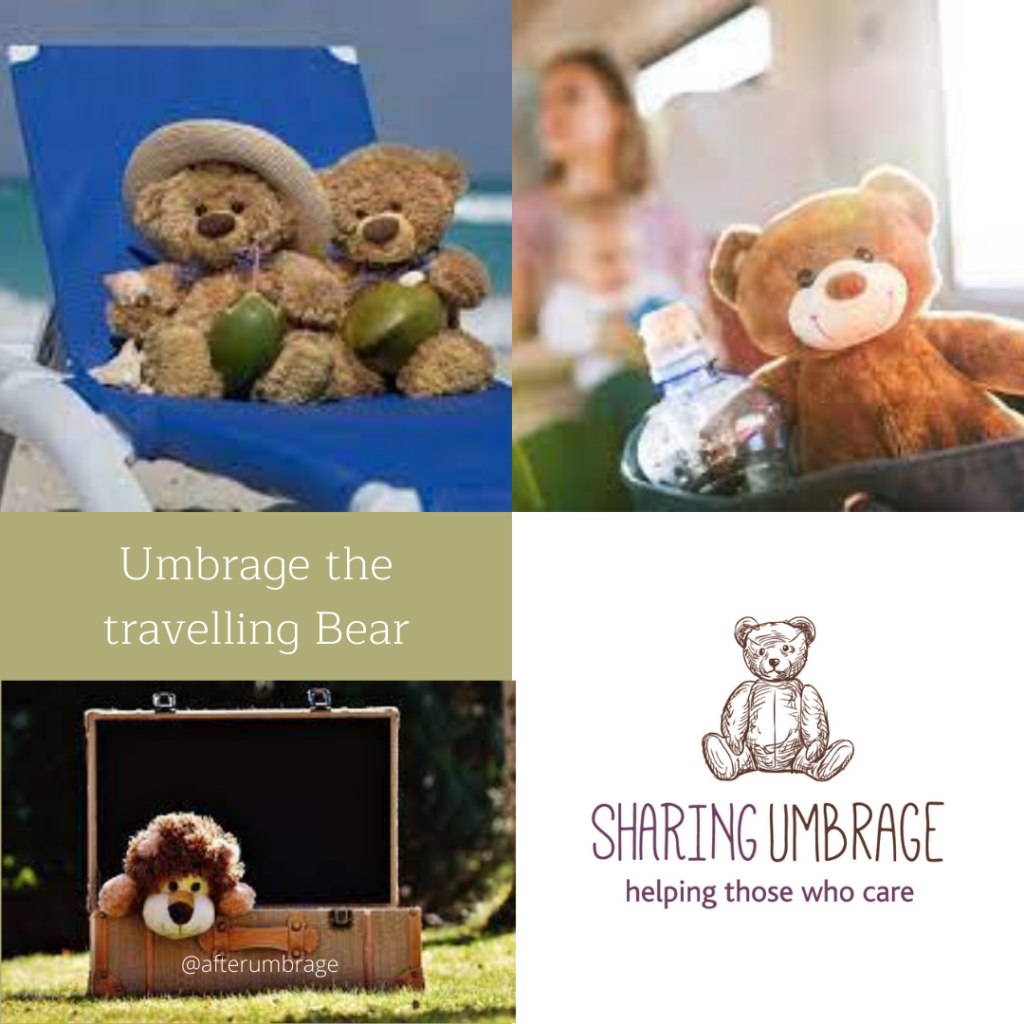 How do we meet our beneficiaries?
We serve a growing network of Carer Support Organisations (CSOs) who support carers in their communities. These might be hospices such as Bluebell Wood Children's Hospice, GPs or fellow charities such as Caring Together and Together For Short Lives. The Brains Trust is another such example.
People working for these organisations become our eyes and ears and refer their carers to us. We connect with over 120 such organisations and are open to approaches from others so we can reach more carers. Please make contact if you'd like your organisation to join our growing network.
Spreading the Word
We rely heavily on low-cost marketing tools such as social media. You can help us spread the word by following us on Instagram, Facebook, LinkedIn and Twitter. Can you help us continue this vital work? It might not seem like much, but simply liking our posts and sharing our page can help connect us with beneficiaries. To top it off it's completely free!
Booking your break is simple follow these steps
If you are a paying guest

Thank you for supporting our carers
Fundraising for After Umbrage
After Umbrage provides tranquil holiday accommodation in scenic rural Britain so that those who take care of loved ones living with a life-limiting condition may have the break they truly deserve. Getting involved and raising money makes such a difference. Every penny counts and enables us to provide holidays, support and respite to carers.