"Amazing weekend in a beautiful cottage. Your attention to detail is superb. Feel really relaxed and recharged to continue my caring journey. Thank you so much."
Book Now
The Cottages
After Umbrage provides short term respite, holiday accommodation for four people. It is free of charge to those caring for loved ones with life limiting and terminal conditions. We would also like to express our deepest condolences by offering breaks to carers within their first 12 months of bereavement.
If you are a carer and need a bit of a break, we would like to invite you to stay for up to four nights, completely free of charge. You deserve it, and more importantly, you need it to keep providing the care that you do. We are honoured to offer you the chance to do just that.
If you are not a carer but would like to stay in our cottage and support After Umbrage  you are most welcome.. The funds created from your booking enables us to offer free respite breaks to carers. You make a direct impact, thank you!
Next Section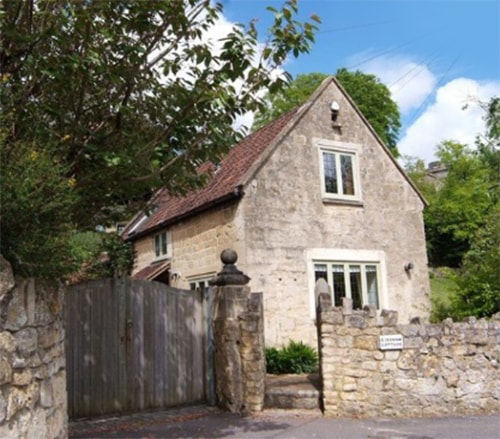 Kingham Cottage – Bath
We aim to provide free, relaxing holiday accommodation in some of the more beautiful areas of rural Britain to those who take care of loved ones with a life-limiting condition. We understand how important it can be to take even a short break and to rediscover you again.
Kingham Cottage is a detached, beautifully converted, former farm building with a superb interior, offering great charm and original character. Beams, stained glass windows, oak floors, oak window seats, and original exposed stonework are all featured in this delightful stone cottage. There is plenty to do just on your doorstep; fabulous walks in the countryside and Bath itself just five minutes away, a World Heritage site with wonderful attractions to suit any taste.
Learn More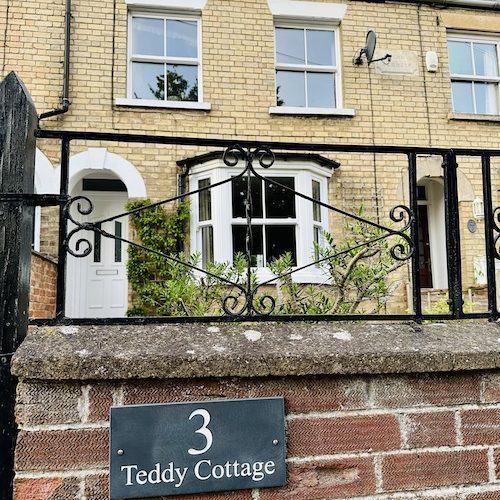 Teddy Cottage – Oundle
Teddy Cottage is a period property centrally positioned a short walk from Oundle marketplace. This two-bedroomed terraced property has a wonderful relaxing feel and has been lovingly decorated by our After Umbrage team with huge thanks to all those that have donated furniture.
Walking around the alleyways and paths of Oundle is a delight, with St Peter's Church (with the tallest spire in Northamptonshire) to help guide you back to the central "conservation area", with mostly listed buildings, many of which date from the seventeenth century.
There are also many walking, cycling, and kayaking opportunities to enjoy nearby and much local wildlife to spot, including the omnipresent red kites.
There is something to explore nearby for everyone whilst remaining a tranquil haven to stay.
More information coming on the 17th July! Check our socials for updates.
Learn More
Reviews from our guests
This time away has given me a little happiness in the darkest of times. A time for me to come first. I cannot express enough how grateful I am – thank you. The last few months have been the worse I have ever had. I don't feel things will ever get better, but this stay in the stunning cottage was a break from everything. The first bath I've had without having to rush or keep an ear out. Thank you all so much. A real opportunity to make good memories and hopefully heal bad ones. You are all real earth angels – thank you.

Donna & Keith from Hertfordshire
Tara, thank you so very very much for your enormous generosity in letting us use Kingham Cottage respite. Your work for carers is invaluable. So kind. We have had two lovely undisturbed nights and a whole day doing nothing but relax and our own little thing. Thank you so very much!

Scott-Hunter Family
Thank you After Umbrage for a relaxing, reflective and enjoyable stay in your wonderful cottage. We lost our gorgeous Mum recently. Her name was Lynn. She was an incredible person and the best possible mother. We miss her every day. Thank you for giving us much needed time out.

Ashley & Sam
Amazing weekend in a beautiful cottage. Your attention to detail is superb. Feel really relaxed and recharged to continue my caring journey. Thank you so much.

Susan & Charlotte from Wigan
Thank you Umbrage, you are a bear with a big heart!

Lesley
Thanks After Umbrage for the warm welcome, the beautiful cottage and the opportunity to get away together.

Michael & Caroline from Glasgow
Comfy, cosy cottage. We both feel very relaxed after a few days here in Somerset and a real pleasure to return to Kingham Cottage every evening. Easy drive to Wells, Bath, Somerset – not forgetting Glastonbury. Five days filled with happy memories.

Curtis Family from Hereford
We've had a wonderful weekend. Just a shame it had to end so soon. I think a nice, relaxing weekend with beautiful country walks was just what us and the girls needed. Thanks again Tara for being so helpful and hospitable.

The Dale Family
Thank you so very much for giving us this opportunity. We have had a magical time. The cottage is beautiful and the location is something else. We would love to return some day. Much love.

Clements Family
Once again a fab stay in a beautiful cottage. This stay was so needed for both of us. Thank you so much.

Nicola & Keith from Doncaster
Laughter, tears, chocolate and prosecco made for a much-needed stay. Wonderful memories and rest.

Kate, April & Diana from Macclesfield
Have had a lovely relaxing break in a very relaxed and pretty setting. A real treat for carers. Thank you so much Tara. The blankets on the settee were a nice touch!

King Family from Leicester
We've had a wonderful few days in this beautiful cottage. Thank you Tara and After Umbrage for providing a magical retreat to restore the spirit. Thank you for caring for carers.

Francesca & Patricia from Twickenham
A wonderful stay in a fabulous cottage. Thank you all at After Umbrage – it means a lot that others care.

Steve & Ashley from Worcestershire
What a beautiful cottage. We gad a lovely, lovely time.We did some exploring and had some quality family time. We are so very grateful to After Umbrage for letting us stay here. We can't thank you enough. A much needed break in perfect surroundings.

The Hudsons
Tara, thank you so much for a beautiful holiday. We had a great time – everything was fantastic from start to finish. We didn't want to leave. The views and weather were a bonus too.

The Harrison Family from Stockport
Had a fabulous, relaxing time in the most beautiful cottage and location. Just a piece of heaven. Thank you.

Howard Family from Milton Keynes
Thank you so much for this incredible stay. Exactly what we all needed. Much love.

The Blakemans from Stafford
We'd booked in for three nights but were only able to stay one night due to unforeseen circumstances. However, it was a lovely break. Thank you.

The Twist Family from Gloucester
Thank you for a beautiful stay and thank you for your kindness and lovely retreat for all.

James, Caroline & Shannon
Lovely cottage in a fantastic location. A great base to reconnect with friends. Thank you.

Louise from Australia
We have had such an amazing time here. The cottage is beautiful and so is everything around it.

The Cartmale Family
Booking your break is simple follow these steps
If you are a paying guest

Thank you for supporting our carers
Share the Bear
Inspired by the Teddy Bears' picnic, can we enthuse you to organise a fundraising event around the theme of Umbrage the teddby bear?
Who doesn't love a picnic? The Teddy Bear's Picnic" has been a hit with all ages for over 100 years. First written in 1907, the song represents the love each generation has for their teddy bears. It's the most wholesome of childhood activities.
Taking this idea one step further, could you convert your next social gathering into a fundraising event with a teddy bear theme?