The essence of Sue Ryder and her dedication to the relief of suffering is in evidence everywhere at St John's Hospice near Moggerhanger, Bedford. There is a warmth that the social workers, staff nurses and volunteers embody and it was a complete pleasure to visit this month. We were invited to give a talk on Carers' Thursday – a gathering of loved ones and carers who all know the meaning of suffering. The occasion aims to sooth, to share stories and to ease the emotional pain of the caring role.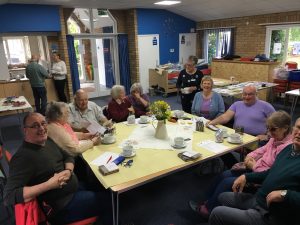 We love these occasions. Quite simply, we meet the beneficiaries of the hospice which is in itself a charity. Just a big one compared to us. Their beneficiaries then become ours. We offer them a free break at Kingham Cottage thereby doing our bit to sooth and comfort. It's our way of providing relief of suffering.
Our guests at Kingham Cottage say they rest, restore and re-energise so they are ready to return to their caring duties. You don't have to take our word for it. Recently we've tweaked the function on our Reviews page so that all our visitors – both paying and carers guests – can leave a review. Please do join us on that page.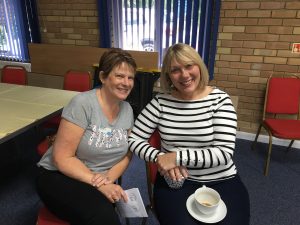 The loneliness of caring
One of the overarching messages is that we help alleviate the loneliness of caring. In the words of Steve and Ashley, "It means a lot that others care."
Donna and Keith expressed it their way, "This time away has given me a little happiness in the darkest of times. A time for me to come first."
And the words of Francesca and Patricia, "We've had a wonderful few days in this beautiful cottage. Thank you Tara and After Umbrage for providing a magical retreat to restore the spirit. Thank you for caring for carers."
Visitors from Bedford
It is our hope that the carers we met on Carers' Thursday – and their network of fellow carers – come and enjoy some of the benefits of a stay at our cottage. The door is open to the beneficiaries of St John's Hospice, all seven hospices in the Sue Ryder group and of course, every hospice across England.