A special event happened this week. Denise Singh-Eyley and her lovely family were featured in Take a Break, the weekly women's magazine. In a letter from the heart, Denise told the story of her sixth son called Theo. He was only 2lb 2oz when he was born. But Theo is a fighter and he defied the odds. We are proud to call Denise and her husband, Michael beneficiaries, and even more so when she agreed to an interview with a journalist called Kim Gregory. Together they created the article in Take a Break Magazine that features Theo, published this week.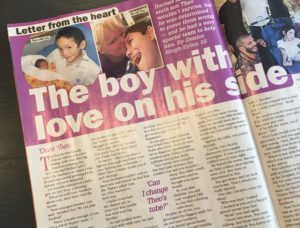 Theo's story
Theo suffered three bleeds on the brain after birth. Doctors diagnosed quadriplegic cerebral palsy and global delay. And so his needs were complex. Daily seizures, he couldn't eat and wouldn't sleep. He was destined not to reach milestones. By his first birthday he was still only 19lbs. But he had the biggest smile for his brothers and parents.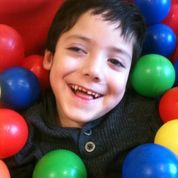 Luis, his brother who was six at the time, read endlessly to him and enjoyed playing with him. At the age of two, Doctors advised that Theo was unlikely to make it past five. Denise hoped they were wrong. But on his birthday Theo's organs started failing and he needed life support. Yet he pulled through.
Meningitis robbed him of his sight
Very shortly afterwards, cruelly, he caught Meningitis. It was serious and it robbed him of his sight. But Denise and Michael's little soldier was determined to live.
Once home, he thrived. His first words were, 'Mum' and he built a repertoire of 40 words. The happiest day for Denise was when Theo said, 'I love you, Mum.'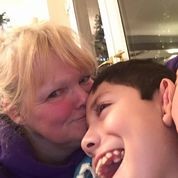 Playful character
Luis read to him for hours and hours. If he left the room, Theo would shout, 'ow!' This would ensure Luis would run back in, panicked only to find Theo giggling. It just showed how strong his mind was. He hated physio and when it was time for it, he'd pretend to be asleep.
Luis presented with a Carer's Award
Luis did so much for Theo that is efforts were recognised. Prince Harry presented him with a deserved Carer's Award. Indeed, Luis and all his brothers helped Denise and Michael care for Theo. As a result, during his life, the family never needed the help of professional carers.
Theo wanted to reach the age of 10
Theo's wish was to reach the age of 10. If you asked him his age, irrespective, he'd say 10. So when he marked the occasion of his 10th Birthday it was a very special milestone. All the family gathered for a special celebration. It was to be their last.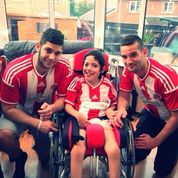 When Theo reached 11
Sadly, Theo's health deteriorated rapidly. Once his organs started failing he had to return to Bluebell Wood Children's Hospice. Just like before, he kept fighting. Denise and Michael think it was because he liked life so much. He was in a lot of pain, couldn't eat or drink, and after six months had to make a very difficult decision. The family had to decide to withdraw treatment to let him go if he wanted to. The whole family took it in turn to cuddle Theo. He took his final breath in his mother's arms. Theo was just 11 years old.
Brothers Sam, Ollie, MJ, Robby and Luis carried the coffin
400 people came to Theo's funeral. This truly comforted the Singh-Eyley Family. He and his family are much loved. But afterwards was tough with all the memories in the family home.
A return to Kingham Cottage
We knew the Singh-Eyley family as they had visited our cottage before. It was good that we could provide a little comfort whilst they grieved. They tell us it gave them a chance to cry, laugh, grieve and heal. They also had the headspace to think about the future a little.
Two years on
Denise says she would do anything to see Theo's smiling face once more.
The family are thriving. Luis has upheld his promise to Theo to become a paramedic and is a trainee for the role. The other brothers have been busy fundraising for charities too in Theo's memory. We thank Denise and Michael for sharing their heartwarming story.