In the Autumn of 2017, After Umbrage won funding from The National Lottery Community Fund.  Subsequently, our focus has been to reach more carers so that they can come and have a free break at Kingham Cottage. One strategy has been simple: we reach carers by linking with hospices to build relationships. The people working there support carers going through very difficult times – perhaps the most difficult times of their lives. One such hospice is St John's Hospice in Moggerhanger near Bedford under the Sue Ryder umbrella.
We reach carers by linking with hospices
We link with Social Workers and Family Support Nurses in these organisations and they become our eyes and ears. They support the carers we want to welcome to After Umbrage to give them a well-earned break. Charmain Felts is one such Social Worker. She is an inspiring woman who has worked at St John's Hospice for four years and holds the position of making the highest number of referrals to us.
A social worker's day is never the same
Her days are extremely varied – referring patients and their families to the Carers Trust, solicitors or will writers for support or guiding a father through his conversation with his daughters telling them he is dying. Her next conversation might be about re-homing a cat or installing a key safe. Anything a family needs is her brief – including telling them about Kingham Cottage.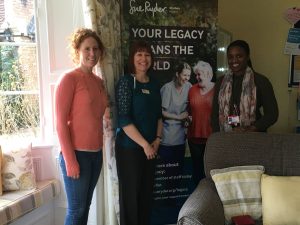 Knowing other people have experiences of a similar kind can be soothing
The first time Charmain mentions After Umbrage might be months before they submit a referral form to us. Often it is when the family is in crisis about losing a loved one and it provides a little hope of comfort. Sometimes, knowing about our charity provides a sense of being cared for themselves, that they are not alone with their need for a break during such troubled times.
That sense of loneliness is acutely real. Knowing others have experiences of a similar kind can be soothing. It is very common that we meet carers during their first year of bereavement. Our beneficiaries tell us their visit to our cottage gives them a 100% increase to their wellbeing. Why wouldn't we want to share this offer?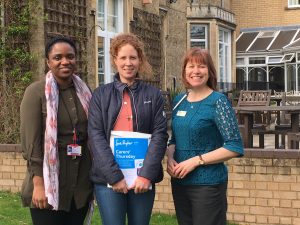 Charmain is currently mentoring Sarah Barbosa who is a Social Worker student at The University of Bedfordshire. She is on secondment for 70 days learning from Charmain about hospice life. We hope Sarah will share her knowledge of our free breaks with her fellow students. As a result, this will help us care for more carers.
We were pleased to thank Charmain in person for the four referrals she has facilitated. She now feels clearer about those carers who qualify for a break with us. In fact, we've just heard that Charmain has handed out two more referral leaflets to carer families this morning.
Looking forward to returning to St John's Hospice
It will be a pleasure to return to St John's Hospice this June to join Carers' Thursday – a drop-in arranged in partnership with St John's Hospice and Carers in Bedfordshire. Tara Belcher, our founder and Tracy Wilkinson, Marketing Lead, will join the carers hub to tell them all about After Umbrage. We'll share the news and photos this summer with our followers.
In the meantime, if you know a Social Worker at a hospice or in the community, please put them in touch with us. Likewise, we accept referrals from GPs and other charities who are serving carers. This is how we connect with people who are doing amazing work caring for their loved ones with a life-limiting condition.