Community choir raised money to care for more carers
Shreen Harmony, based in the village of Mere, Wiltshire raised £450 to help After Umbrage keep Kingham Cottage looking its best. The cottage opens its doors to carers in need of a break. The choir has been singing as a group for over 20 years and performs four local concerts during the year. We are grateful and thank all the 40 members warmly for their generous donation. It's their record-breaking charity donation, no less.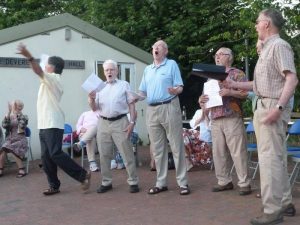 This lovely choir was set up as part of a three year Millennium funded project in 1998 called Confluence. Other choirs and musical groups formed part of the initiative. The aim was to encourage people to create new music for the River Stour area, from the source at Stourhead in Wiltshire to the sea at Christchurch in Dorset. Helen Porter was their first Musical Director. They are now led by inspirational Music Director, Caroline Radcliffe, who runs several choirs around Frome.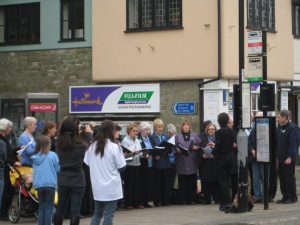 Links from the past bring the community choir and After Umbrage together
Shreen Harmony heard of After Umbrage via one of their members who was a counselor at The University of Bath. She was friends with one of Tara Belcher's friends, our founder, when they both worked at the clinic. This link from the past meant that when the choir came to nominate a charity at Christmas, we were on the list. We couldn't be more delighted to be chosen.
Their concert includes music from a variety of musical genre. These include British, European, Asian and African songs, soul music, American Spirituals and Christmas Carols. There are no auditions, nor do all members read music. Instead, everyone is encouraged from all walks of life to join the community choir for a good relaxing and enjoyable sing.
Members reflect all walks of life and ages
Members are of all ages from their 30s and 40s to retirement age and beyond. Several members are over 80 years old and some children of members join the group in their teenage years too. They are all very active in the charity world and host an annual concert for the Alzheimer's Society in Gillingham which will be on Thursday 23rd May this year. There is a genuine appreciation of how good singing is for the brain. It helps people make connections with the past, even for some members who are suffering with Alzheimers themselves.
Once again, we thank Shreen Harmony for thinking of After Umbrage and our carers who benefit so much from a free break with us. Keeping Kingham Cottage looking loved and cared for helps us attract paying guests via Classic Cottages which in turn covers the costs we incur for our carers and their families. It makes such a difference to have this donation.