It's that time of year again! On Sunday 12th March 2017 After Umbrage will be taking on the 2017 Vitality Bath Half Marathon.
Our team will be running to raise vital funds to help us to continue our work, providing care for those who care and offering carers across the UK short breaks at our cottage near Bath.
The good news is that this year we have been granted Bronze status by the Bath Half Marathon organisers, which guarantees us seven fundraising places in the race. The bad news is that there aren't seven of us yet in the team!

Are you up for a challenge? We are looking for seven runners (of any ability!) to take on the race and help us reach our fundraising target.
Why should you join the After Umbrage Bathalf team?
The first group of four runners to join us will have free accommodation at Kingham Cottage for the weekend, as well as transport on Race Day. The whole team will also enjoy a Pasta Party the evening before, as well as After Umbrage running vests and a whole heap of good karma.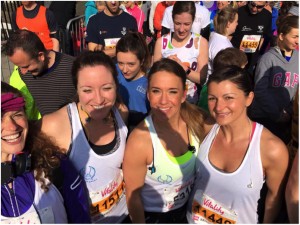 If you would like to join the 2017 After Umbrage Bathalf team and run your socks off, get in touch with us by emailing hello@afterumbrage.org.uk and reserve your place in the team.
Break a leg!
Please Note: Runners must pay their own entrance fees and raise a minimum of £175 for After Umbrage.