These words are what you discover when you Google EACH and they couldn't be more accurate. There was a genuine warmth to the greeting After Umbrage received on arrival and this was sustained throughout our visit, through the people we met, the facilities that are available and how choice is on offer to carers of loved ones with life limiting and threatening conditions. It felt that empathy and understanding were part of the hospice culture.
After Umbrage visits EACH
Yesterday Tara Belcher, Founder of After Umbrage and Tracy Wilkinson, Head of Marketing visited East Anglia's Children's Hospice – based in Milton near Cambridge – to learn how they work and who they serve in order that we can support the carers and families that truly need the services of the hospice. We met Mike Higgins, Services Manager at East Anglia's Children's Hospice who showed us around. There was considerable refurbishment going on which gave us an opportunity to see all the facilities: the magical sensory room, the childrens' bedrooms, their play areas (indoors and out) and the beautifully warm and temperature controlled pool. It felt a happy place despite the sadness that unfolds within its walls.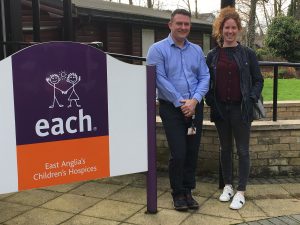 Plenty of choice for parents
Parents have plenty of choice when their child is under their care – there are bedrooms, a lounge and kitchen facilities available for those who wish to stay on site to be close to their loved ones. The grounds are lovely too, cared for by a team of volunteers. This memory tree holds centre stage too, illustrating the thought given to the wellbeing of those needing the hospice.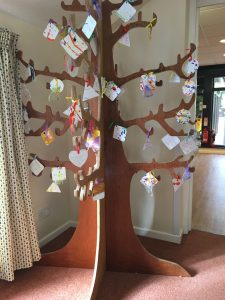 Made new friends
So, it feels like we have made new friends. And they serve people we serve – just in a different way. Mike and his team of skilled and talented nurses will be our eyes and ears.
They help us by referring families to us who are truly in need of a short break
That break can be up to four days away in our idyllic cottage. The families they refer to us can enjoy up to three breaks – including one during the first year of bereavement – at Kingham Cottage. It's a cozy home from home with everything you need catered for.
The idyllic retreat is set just outside the city of Bath, overlooking views of Wiltshire. Exposed beams, a secluded patio, an inglenook fireplace and a roll top bath create a luxurious place to stay for up to four people – with or without their loved one. Peace and tranquility are offered alongside the amenities and historical sights of Bath only five minutes away. Though, you don't have to take our word for it, read what our beneficiaries have to say.

You may know of a hospice that supports families in need of a break?
Please feel free to browse our website to get details of Kingham Cottage and the simple, short referral you'll find on every page of the website. Please do get in touch. We'll visit your hospice if we can. We write regular news updates and a monthly newsletter which you can sign up to here. It's an easy way to share our offer with your network. We're very grateful when you do. We'd like every carer in the UK to know about After Umbrage and to come and stay with us.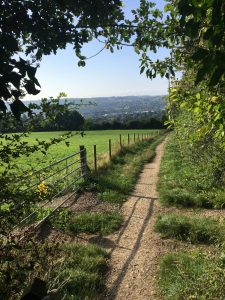 So, thank you Mike and your dedicated team for welcoming After Umbrage to EACH. We are looking forward to returning the honour and welcoming your families to After Umbrage for a little boost to their wellbeing.