The countryside around Kingham Cottage is stunningly beautiful. There are a variety of walks in the immediate area for you to explore. Some are quite easy-going, while others take a bit more stamina. Our beneficiaries tell us the walks they enjoy are a big part of the pleasure of staying at our cottage. In particular, the walks that include the great British institution of the public house are popular. No surprise there then! We welcome you to our world of countryside walks near Kingham Cottage.
Starting with our favourite pub
Of course, we must start with our personal favourite, The Wheelwrights Arms on Church Lane, Monkton Combe. Pleasingly, they have made significant improvements to the outdoor seating area and a service hatch to the garden in light of Covid 19. There is a selection of circular walks that start from this delightful pub available via the village website. Walk Two in fact starts at the bottom of Summer Lane, very near the cottage, so it couldn't be more perfect. On route, you will find the romantic looking tower rising from the woods which is a folly belonging to Midford Castle. Also, you walk under the handsome viaduct of the late Somerset and Dorset Railway. Allow about 1 1/2 hours for the walk and do stop at The Wheelwrights Arms for refreshments.
The longest cycling tunnel in the UK
The Two Tunnel Greenway is the shared-use path that connects the City of Bath with the Midford Valley. It's a surfaced, somewhat flat, walking and cycling path. Along its length, you can take in Bath's Georgian Cresents and the picturesque countryside to the south of the city. You walk where once the steel rails guided the trains of the Somerset and Dorset line on their way to the south coast. This is a great resource if you are looking for things to do and places to see along the Two Tunnel Greenway.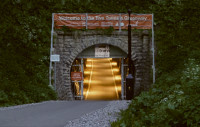 Picture post card landscape
The Midford Valley is just a few miles south of the City of Bath and one of our other great finds is the Hope and Anchor Pub in Midford. It is less than a 2-mile walk from Kingham Cottage and well worth adding to your walk route planning. A pint and sandwich there are a must. The pub is one of Bath's few remaining independently owned and run establishments. This historic country pub has been run by Richard and Luci Smolarek for 26 years now. We highly recommend popping in during one of your countryside walks near Kingham Cottage.
The Sky Line Walk
Only a short distance from the city centre you enter a whole new world among the skyline hills above Bath. It is a beautiful 6 mile walk taking in meadows, secluded valleys and ancient woodlands. There is tranquility in this rural haven in contrast to the historic city and the combination has helped it win the status of World Heritage Site.