After Umbrage beneficiaries are an inspiring group of people. They are great at providing feedback and sharing top tips for things to do near Kingham Cottage. We want to capture these – for future visitors – paying and carers alike. Furthermore, it's our way of showing beneficiaries how much we value the time they take to provide feedback. Here are their top features of Kingham Cottage.
The best room at the cottage
Ha, ha. This is a fun one to start with. Carers have told us they love the bed in the double room at the cottage. It's unbelievably comfortable. They love the coziness of the room too and the pretty finishing touches. The pretty cottage kitchen and dining area is on the top features list too. But, the favourite room in Kingham Cottage is the living room. It's not hard to understand why. It's features include an inglenook fireplace, exposed beams and sofas and chairs that wrap their caring arms around you. But even that's not the full reason. The most mentioned aspect of the living room is the view. It's one you can lose yourself in. One you can take in the pretty scenery of the Midford Valley.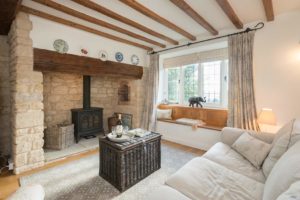 The Skyline Walk
A short stroll form the city centre of Bath, is the Skyline Walk. It is six miles of meadows, secluded woodlands, and pretty valleys peppered with regular stunning views of the city. It is easy to get lost – we speak from experience – so having a good map is important. We've managed to extend the walk accidentally by walking the perimeter of the nearby golf course. Not recommended. There are plentiful opportunities to photograph the city skyline too.
Favourite Foodies
Of course, we are going to talk about food! We can't do a blog about our carers feedback without it! There are so many fabulous places to each for brunch, lunch, afternoon tea and dinner that it's hard to choose one. So we won't. The theme here is five, so here are our beneficiaries' five favourite eateries: Oak Restaurant (previously known as Acorn Restaurant), The Boston Tea Party on Alfred Street with a business purpose of making things better – people and communities, the buzzing restaurant in the heart of Bath: Corkage, the stylish, trendy restaurant on George Street Clayton's Kitchen, and finally the cafe that delivers without fuss or pretention, Cafe Lucca. Tough choices lie ahead for visitors.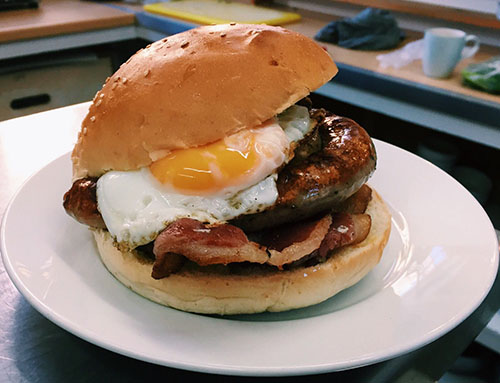 No self-respecting review of top features of Kingham Cottage including food can be complete without mention of the great British institution of the public house. Our beneficiaries and trustees agreed with ease that their choice would be The Wheatsheaf Combe Hay near the cottage and The Marlborough Tavern in Bath. Both serve delicious food in a comfortable, stylish setting. Do check them out.
Practical matters
Sometimes, local knowledge is just what's needed. When you are away from home, that's not quite so easy to achieve. So this is where our beneficiaries come in so handy. They have a recommendation for a mobility service that's near the cottage. The company is called Assured Mobility and they have a branch and shop on Midford Road, Bath. We have been told they are very helpful. If in need, why not give them a call?
Tourist Stuff
This is always a matter of taste. What one family adores another detests. It's what makes being human so fun. We are all so different. Fortunately, Bath offers a lot of choice. Honey-coloured Georgian houses, 2000 year old Roman Baths, World Heritage status granted in 1987, stunning walks in pretty countryside between The Cotswolds and The Mendip Hills in Somerset… something for everyone.

That said, many of our beneficiaries agree that the Royal Crescent is a must-see. Many know it is a monumental semicircular sweep of residential townhouses with a breathtakingly uniform, palace-like façade. No.1 Royal Crescent is open to the public (most homes on the crescent remain privately owned) and provides a rare glimpse into what life was like for the wealthy — along with their not-so-wealthy servants — in the 1770s. A variety of guided tours, educational events, and themed itineraries are available too.
What top feature of Kingham Cottage or Bath would you add?
We are not experts. Our beneficiaries are not experts in the local area either. But it's fun to share recommendations so others new to the area and staying at Kingham Cottage might benefit from the short cuts. Do get in touch and we'll include your suggestions in future posts.