We were delighted when Bethan Williams announced that she was fundraising for After Umbrage and The William Templeton Foundation for Young People's Mental Health (YPMH) jointly. At the end of April, Bethan got in touch to say that she was training for the London 10K on Bank Holiday Monday 2nd May. She did marvellously and achieved a personal best no less! And raised much-needed funds for her two chosen charities.
Two running challenges
What's even more marvellous is that Bethan is training for her second fundraising event coming up this Summer. She has also entered the Barry Island 10K on 7th August.
The money she raises will go towards the cost of a free break for a family of unpaid carers just like these wonderful people.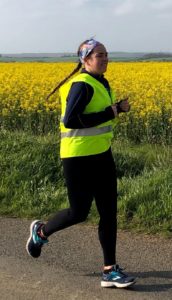 Two very different events
The iconic 10K event guides you past some of London's most famous landmarks, including Admiralty Arch, St Paul's Cathedral, the Bank of England, Somerset House, Big Ben, the Houses of Parliament, and Westminster Abbey. So there was plenty for Bethan to feast her eyes on as she ran.
The second event is taking place on 7th August and will feature sun, sea, and sand as the backdrop. How different! Bethan is running in the ABP Barry Island 10K.We can see why Bethan has chosen these two very different running events.
Good luck Bethan on the 7th August! Please sponsor her.
Relationships matter
We asked Bethan why she chose After Umbrage as her chosen charity. She said it was because we are local and she knows our Founder, Tara Belcher.
It's our experience, and yours no doubt, that relationships really matter when it comes to fundraising and supporting charities. Sam Woodfield was another such example. You may recall he took on a 1,000 km cycling challenge on our behalf between Christmas and New Year 2021-22. His personal challenge was made all the more difficult because of limited daylight, rain and cold temperatures. Sam raised nearly £1500.
We had a chat with Bethan after the London 10K.
What triggered your love of running events like this? What do you think about when you are running?
This is actually my first race! I watched my dad run the Cardiff Half Marathon and the atmosphere and sense of achievement were something I really wanted to be a part of . The 10K seemed a good distance to start with. I was actually training for the 2020 race but it got cancelled twice!
Why have you chosen After Umbrage to donate to? Do you have personal experience of caring or know someone who has been effected by caring?
I have chosen After Umbrage because it's a small, local charity (and I know Tara) It means I have had conversations with people who will directly benefit from the charity. Also, both my Grandad and Grandma began to need a large amount of caring before they passed away. It showed me just how much of a tough job caring can be and how important breaks for carers are.
How do you recover after the events, both physically and mentally?
After my training sessions I stretch (although not as much as I should), drink plenty of water and use my massage gun to relax my muscles!
Ongoing training
Please give Bethan that extra bit of motivation and sponsor her for her upcoming event in August. She has already achieved 69% of her target by raising nearly £350. Please help her hit that personal target and help support unpaid carers.
Thank you to Bethan's sponsors and to Bethan for her dedication and determination. The funds will make a huge difference. And good luck on 7th August!