Beneficiaries of our charity, After Umbrage are very special people. They are diverse and face problems that would challenge even the greatest practitioners of positive thinking. They each have a unique story. Here we talk to Keith Cheshire of Doncaster. With his wife, Nicola, they have a special daughter called Toni who has complex needs. They have visited Kingham Cottage three times since 2015 and both their GP and hospice referred them to us.
Hello Keith. Thank you for chatting to us. Tell us about Toni.
Toni is 24 and has complex needs and relies on us for all her needs. She still looks like a child, she can't walk or talk and needs a wheel chair. She is immune suppressed, an uncommon problem whereby she is prone to infection and so has weekly boosts of haemoglobin where we pump two needles into her thigh for a 50 minute process. She takes all this and more in her stride.
We care for Toni at home and she has a great relationship with Bluebell Wood Hospice. She gets respite stays and has been visiting since it first opened over nine years ago. She knows the staff and feels comfortable and happy there. She has a good time.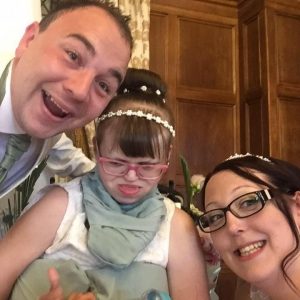 How did you come to visit our Kingham Cottage in Bath?
We pool all our financial resources in Toni's direction, so we were delighted when Bluebell Wood told us about After Umbrage. Reluctant at first to travel so far from Doncaster, knowing Toni was happy at Bluebell Wood gave us 'permission' to relax and enjoy a break. Toni gets fed up with us too from time to time you know!
We visited the Roman Baths during the Twilight package where the baths were illuminated by lanterns which created a wonderful atmosphere. Longleat, afternoon teas and Thornbury Castle were also on our list of days out. We visited in June and the weather was sunny and crisp. We often prepared meals at the cottage and simply enjoyed being there.
How would you describe your stay at Kingham Cottage?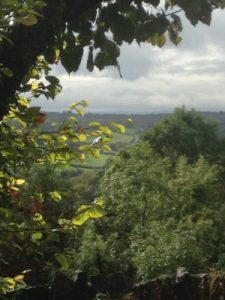 I can't explain how the cottage is. It's not a holiday cottage, it is more like home – warming, comfortable and relaxed. It's like it takes a weight off your shoulders by being there. It's quiet and it melts your worries away. And that feeling lingers for quite a while – we are still talking about it today.
Can you help us understand your worries?
When Toni reached 19, the authorities tried to place her in unsuitable day care. We had to do our homework and state firmly that we wouldn't accept this. Together, Nicola and I took Toni to the meetings where decisions effecting her future were being made, despite her not being invited. Once the authorities met Toni, their opinions changed and subsequently, Toni has been fully funded by the NHS. It's not a given for the future however. It's an annual battle to justify her needs which will never change. They never have and never will. If anything, change will be for the worse and we face this prospect daily.
NHS funding can always be taken away and should this happen we wouldn't be able to afford carers. So, we fill in the book-like Personal Independent Payments forms and re-apply each year for the funding.
You say Toni relies on you for all her needs.
Toni is one of 80 cases reported worldwide with Translocation Trisomy 11Q-22Q. When she was born we had to do all the leg work to find this out. We knew something wasn't right as she couldn't eat or drink. We were told it was my wife's fault, that it was a genetic chromosome problem and that she'd be "a cabbage for the rest of her life". We have been fighting this old school mentality all of Toni's life.
In Toni's early years we wanted to talk about her health all the time – to learn and discover how we could help her. We did our homework alone. We approached every society we could think of including the Down Syndrome Association in London. Then one day we learned of Professor Marcus Pembury giving global seminars who kindly – after some tracking down – agreed to take on Toni's case. He warned us that he'd be searching for the 'worse case scenarios' and that the information he would share might be hard to take. 40 minutes after our phone call the professor called back with detailed medical information which he was happy to share with us, our GP and geneticist. We needed the GP to explain the medical terminologies.
This rattled cages and things started to happen. Dr Madlom, a Patron of Bluebell Wood Hospice became Toni's paediatric consultant and supported us until Toni was 19 years old when he retired. His successor took over until Toni was 21, and since then she has been considered an adult even though she's only an adult chronologically and in any other way she is a child.
Today, Toni's best port of call is the Immunology specialist in Sheffield where we trust we will be directed to the right people, quickly if we face something new or Toni's health deteriorates. Speed is vital. We know she could be dead in three months if we don't act quickly.
Toni smiles a lot
She has a wicked sense of humour and loves Ryley our dog. He's a Westiepoo. When she sees others in wheel chairs she laughs at them and doesn't see herself as being different. She knows no different. We have nearly lost her a few times and to us she is most precious.
We enjoy Toni everyday
Nicola and I know that it's our positive mental attitude that helps us get through our many challenges. We feel fortunate that we were able to bring Toni home from hospital all those years ago. We have friends through the hospice who have lost their child. We still enjoy Toni every day.
Parents, grandparents and carers group at the hospice
Life for carers can be very hectic and it's hard to have time to meet other carers living with equally challenging health worries. We are like ships that pass in the night. We never meet.
Talking has really helped Nicola and I stay positive and so we were part of a group at the hospice made up of parents, grandparents and carers. For me, this proves the power of connection with like-minded people.
Our solidarity has given us some power too. We've seen what is and isn't working at the hospice and we've influenced change to improve services. For instance, when the garden paths are uneven we can get this fixed. Our greatest achievement was when we negotiated with a wheelchair roundabout company to discount the cost by a third. In three months we fundraised to cover the £12,000 cost and in six months the roundabout was installed.
Further struggle
We have been through a three and half year complaint hearing with seven points to our argument to create a securer future for Toni. I represented all her needs in court at the hearing against Doncaster Social Services so that those who follow her don't have to suffer the uncertainty we've faced. We don't want families with loved ones who have Toni's rare condition to have to struggle like we have. I'm delighted to say that the judge found in our favour on all seven points. It was a good day.
And Toni's future?
With Toni, we take one day at a time and take pleasure from her smiles and laughter.