We are proud to introduce to you, a family that crosses three generations. At the helm are Brian and Janet who are from Portsmouth.
Brian and Janet have recently enjoyed a break at Kingham Cottage. We met Brian through one of his daughters, Janine Collier, who works for Tees Law. It is a Top 200 UK law firm with six offices in the East of England. Tees Law has been a generous donor to After Umbrage. You can imagine how much pleasure it gave us to host her parents who are unpaid carers at our holiday cottage.
As well as Janine, Brian and Janet have a daughter, Sue, who developed Primary Progressive Multiple Sclerosis at the age of 26. Janine and Sue have two other siblings: Stephen and Sharon. Sue is a mother of two, a daughter, Keri, and a son, Luke. It was near Luke's first birthday that Sue was diagnosed. Naturally, Brian and Janet helped from the outset. Sadly, Sue had to give up driving and needed assistance walking. Sue moved into a bigger house with her parents and children and became a family unit across three generations. The whole family has come together to support Sue, as, over time her condition has deteriorated further and her parents have grown older.
Amidst the hard work, there are highs
Sue is now 53 and her two children have been to university. Luke is now a solicitor and Keri is about to start a new job in London. Brian laughed as he says, "It's better now in terms of the laundry."
The lows?
Of course, there are many. "It is a bit like walking around with a chain ball around us." Brian and Janet say caring has affected their social life and their financial life.
It is a great challenge coordinating and administering the carers, occupational therapists, and physiotherapists. Add to that list: doctors, wheelchair services, motability services, continuing care, and incontinency service. And then, add the difficulties evident during the Covid lockdown periods.
Brian said, "I retired early. Three years before retirement age. (He was both a Computer Programmer and in IT Recruitment.) I couldn't chase my career." There were always other priorities. Janet, too, gave up her career in a school two years after Sue's diagnosis.
Logistical exercise
Getting away for a short break to Kingham Cottage took sheer effort. The logistics were quite the achievement. Janine came down to look after Sue and day carers were arranged for support too. It all worked out well and Brian and Janet were able to enjoy a four-day break away with plenty of rest and relaxation.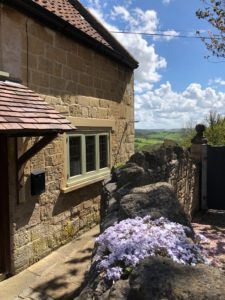 "You are my Amazon Smile charity"
We were delighted when Brian told us we are his Amazon Smile charity. If you don't know already, when you shop, Amazon donates a percentage of your purchase to your nominated charity. We've had a few more people sign up recently and it's great. In fact, in the last month, £177 has been raised for After Umbrage. Thinking of joining Brian and Janet and making a difference? That would be marvellous and it costs you nothing. Here's how to get set up.
In Brian's words
"We are so grateful to After Umbrage for the opportunity to enjoy a break at Kingham Cottage. Carers are very much the unsung heroes of our society and as in our case, the whole family can be affected by the circumstances of illness or disability.
After Umbrage offers an opportunity for carers to escape the stresses and strains of daily life for a short period and enable carers to be themselves and regenerate their batteries. It is so important for their well-being and the well-being of the one they care for."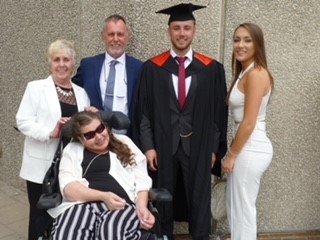 Best wishes for the future
As carers, Brian and Janet don't know exactly was lies ahead. That said, they have plenty of years of experience as unpaid carers with so much to deal with. We wish his family well and thank them for their support of our small charity.