Thursday 17th February is Random Act of Kindness Day. It's a day when we are encouraged to perform kind gestures – for no other reason than to help brighten someone's day.
Why are we celebrating this day?
Kindness is a core value of After Umbrage. It makes perfect sense for us to mark this day and remind people how powerful kindness can be. Our story is about providing care for those who care. Respecting, recognising, and making unpaid carers more visible is our thing. Today we will do that. Like every day. The After Umbrage way is to give free breaks to unpaid carers.
Fun facts about Random Acts of Kindness Day
Engaging in acts of kindness activates the brain to release endorphins, helping to reduce anxiety, make you feel calmer and more in control, and improve your overall mental health.
Being consistently kind has been scientifically proven to help protect your immune system and heart health.
Studies show that kindness really is contagious. When someone is kind to us, it makes us more likely to show kindness to others, causing a continuous ripple effect.
Kindness is teachable. Dr. Ritchie Davidson from the University of Wisconsin says, "It's kind of like weight training. We found that people can actually build up their compassion 'muscle' and respond to others' suffering with care and a desire to help."
"Random" is a mathematical term used in statistics and probability to describe a number or pattern that cannot be predicted. In other words, it's completely unexpected!
How did it all begin?
How did random acts of kindness start? Random Acts of Kindness Day was initiated in 1995 in Denver, Colorado by a nonprofit organisation called The Random Acts Of Kindness Foundation. Random Acts of Kindness (RAK) day began in 2004 in New Zealand.
You may know that promoters of the day suggest buying flowers for someone, opening the door for others, making a cake for a neighbour, letting a car into the traffic ahead of you, washing someone else's car, or paying the bus fare for another passenger.
What will we do?
We will each do something as individuals. But as a charity, we are delighted that a wonderful family – who has stayed with us before – is staying at Kingham Cottage. We hope they have a wonderful rest and create many happy memories with their family.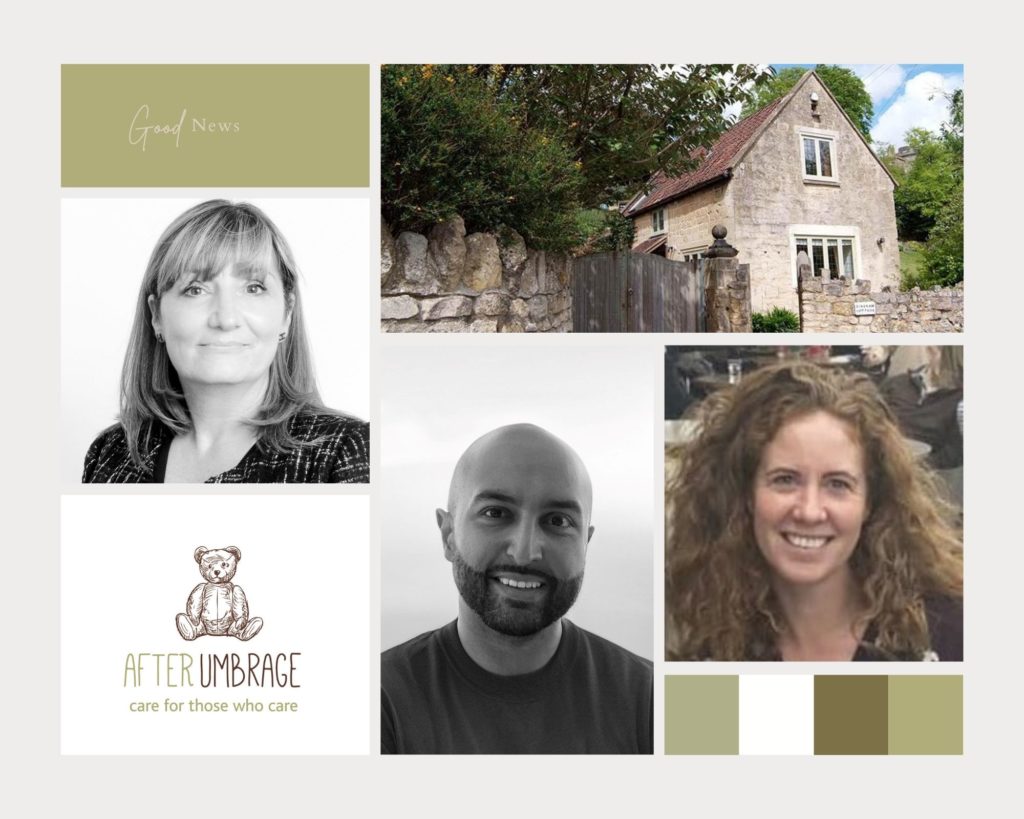 One last note
On this day, in 2021, a very special woman called Kate Slack offered After Umbrage a Random Act of Kindness. She asked us, 'What can I do to help you today?'
We reflected and then asked for an introduction to a potential champion for our small charity.
For some time, After Umbrage was looking to identify an ambassador to champion and raise awareness of both our cause and the impact that our work can make. We were looking for someone who felt what we do is close to their heart or aligns with their organisational purpose and value. Kate found said person and was happy to facilitate an introduction.
Our founder, Tara Belcher, had a conversation with Yvette Cleland, CEO of Cpl Life Sciences. And what followed has created a little bit of history for our 8-year-old charity. We have been appointed Charity of the Year for Cpl UK. It is the first time we have earned such an appointment. And we are delighted. For more details about our partnership with Cpl UK please read our blog. Yvette and Affi Khan, CEO of Cpl UK – Tech & Health are both in the photo collage above along with Tara Belcher.
Thank you Kate Slack of Cempta Charity Solutions who inspires small organisations to create a bigger impact. She has certainly done just that!