September started rather well for After Umbrage thanks to a donation from The Alchemy Foundation in London. The foundation has donated £500 for which we are very grateful. We appreciate the support immensely. It is equivalent to paying guests booking Kingham Cottage for a week in May.
As you may know, 100% of this money goes towards making the cottage available to carers for free. It will enable us to give two carers and their families a free break.
To put into context what that actually means, I quote from our guest book and thank you letters that our beneficiaries send us, " This time away has given me a little happiness in the darkest of times. A time for me to come first. I cannot express enough how grateful I am – thank you. The last few months have been the worse I have ever had. I don't feel things will ever get better, but this stay in the stunning cottage was a break from everything. The first bath I've had without having to rush or keep an ear out. Thank you all so much. A real opportunity to make good memories and hopefully heal bad ones. You are all real earth angels – thank you."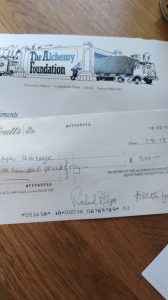 Support isn't always financial
Indeed, often isn't in our world. A recent example is how the online newsletter called 'Carers Support Daily' featured us in their latest edition. This kind of collaboration helps us reach new audiences, something we are always seeking to achieve.
Featured in new newsletter
Similarly, we work closely with one particular Carer Support Organisation (CSO), The Carers Trust Cambridgeshire, Peterborough and Norfolk. It has recently re-branded and re-named to Caring Together with the strapline, so that carers have choices. We love their new look and feel. Also, we are delighted to be featured in their first newsletter announcing their new look. Graham Lewis of HealthWatch Cambridgeshire and Peterborough tells our story on page 16 and is thereby helping us spread the word in that particular region.

Charity events provide learning opportunities
Support is also very welcomed in the form of charity networking events and two very interesting occasions are coming up. For the first on 19th September, three organisations in Cambridge are working together to deliver a Corporate Social Responsibility (CSR) workshop. Price Waterhouse Coopers, Support Cambridgeshire and Get Synergised have put together a charity focused agenda with CSR at the heart. The aim is to illustrate and discuss how relationships between the business and charity sectors can be mutually beneficial. We'll tell you more after the event.
The second event is the Cambridge Charity Conference on Friday 20th September with presentations from four guest speakers who will explore the latest changes, trends and innovations in the charity sector. Again, more to come about that later this month.
Working smart
Small Charities like After Umbrage have to work smart to survive and learning about key issues that might effect our future, building valuable relationships across sectors and gaining financial support are at the heart of our work. These opportunities really help us keep up to date. We thank all these organisations mentioned here that help After Umbrage and many other small charities sustain their work for their beneficiaries.