Has cancer touched your life? Do you walk for pleasure and health? Could you walk for Cancer Related Causes?
If yes, we ask you to join us for the Non Dorset Walk. The goals of the walk are unchanged from the Dorset Walk that raised £50,000 and involved 400 people last year:
To support cancer related causes and to provide positive experiences
It's a great goal of The Malcolm Whales Foundation that organises this event over the weekend of 10th -12th July every year. Indeed, for over 10 years. Whilst adversity has arrived in the form of Covid-19 the Non Dorset Walk is still going ahead.

The Coronavirus Pandemic has had a huge knock-on effect across the NHS, which includes the cancer wards and their patients. Notably, many of whom are our beneficiaries. It means that people suffering from cancer and their families need us more than ever. We are delighted that After Umbrage has been nominated as one of the three charities to receive £1 per person or household that gets involved. If last year was anything to go by that would be £400.
The Walk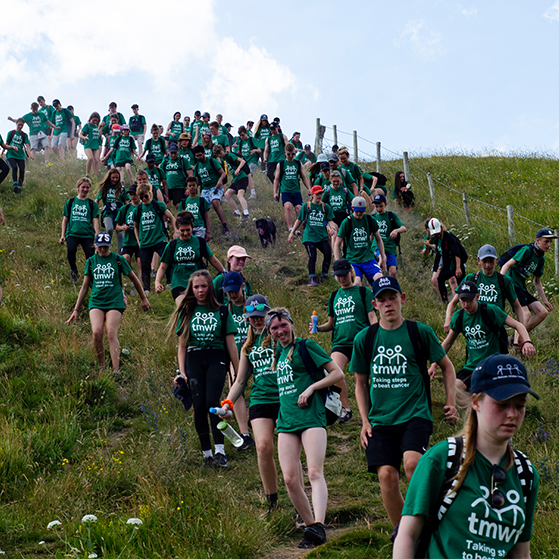 We invite you to camp and walk from home. The walking can take place over the same 3 days or across the week. The target is still 40 miles over the 3 days. Hopefully, your family, friends, and colleagues will get involved. We ask, if possible, that you donate £1 per mile per person/household (£40 or more) to help make a difference.
'Let's make a difference to the people who need our kindness more than ever'
Depending on the social distancing guidance it may be possible to walk in groups from and to central venues. There are endless possibilities, we cannot wait to see what people can do. PLEASE invite as many people as possible to get involved. Again, the event is open to anyone and everyone wherever they may be.
Will you get involved?
The core principles are:
1. Try and create the Dorset Walk from home – walk 40 miles in your local area and camp in the garden. Over what would have been the Walk weekend (10th-12th July).
2. Pay £40 per person/household to take part.
3. The Malcolm Whales Foundation will donate ALL money raised to support causes that are NHS/Cancer related. What's more, The Malcolm Whales Foundation has nominated After Umbrage as one of the three charities to receive a donation from the pot of money raised. This will help us support families whose lives have been devastated by cancer like Damien Whales and his family.
To get involved and for more details:
So that you can get all the information you need, follow the Dorset Walk on The Malcolm Whales Foundation Facebook Page.
For FAQs and much more please go to The Malcolm Whales Foundation website and read up about the Dorset Walk.
Follow this to sign up and donate by scrolling to the bottom of the page.
Thank you
Thank you for getting involved. Indeed, for walking for cancer related causes. For walking for charity. Moreover, we thank you for understanding how important this is.