Thursday 5th July will bring back memories of being a very special day for After Umbrage and it's all down to the wonderful, warm welcome we were given at the Peterborough Family Carers Hub organised by Arda Lavelle of Carers Trust Cambridgeshire, Peterborough, Norfolk (CTCPN). It was their second meeting and we were invited to give a talk about the work we do at After Umbrage, how we can help support the carers assembled at the meet up and those carers in their wider network.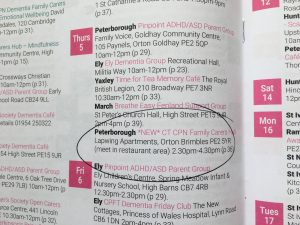 Engaged from the very beginning, it became an exchange of ideas and support – we can help carers with a free holiday break at Kingham Cottage and in return, they gave us frank and honest insights into their lives and challenges as carers – all delivered with dignity and smiles.
Tiredness, broken sleep, constant worry, emotional turmoil, loneliness and guilt were the key themes that we heard. And what we offer is a passport to moments (four days in fact) of tranquility and calm. What we are offering, in essence, is for carers to give themselves permission to look after themselves during a short break away from home, safe in the knowledge that it's not only good for them as individuals as carers of loved ones but it's great for the loved ones too – as the carers return from Bath refreshed, rejuvenated and energised to continue their crucial work with compassion.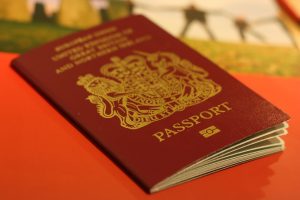 They made a very clear point also – that what we offer is really quite special. We don't simply care for the carer, we care for children, siblings, partners, husbands and wives – the whole family in fact. At our two bedroom cottage, we cater for every member of the family, who are so often (not with unkindness or intention) overlooked and neglected in the daily grafting to care for loved ones with life limiting conditions.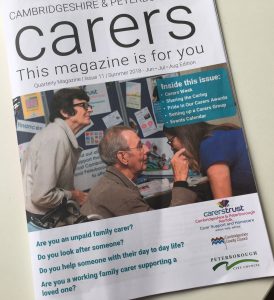 Arda Lavelle gave us a powerful insight into the value we offer too. In her words, "The free breaks from After Umbrage are a holistic approach to improving the emotional and physical health of carers. In fact, the charity provides support for carers to sustain their vital roles – important for their loved ones, for their community and the economy as a whole."
We thank CTCPN for their warm welcome and their encouragement to continue our work reaching more carers. We are only sorry we didn't take a photograph to capture this special day.