Every two years, After Umbrage is proud to host its Charity Valentine's Ball. It is our flagship fundraising event that raised over £9,000 in previous years. This year? Well, of course, we have to do something different. So that we still mark the occasion of Valentine's Day, we put our thinking caps on and came up with a way for everyone to send their love to their partners, family, and friends. Those people we miss because we can't go to the pub. Our gym buddy. Our mate from the coffee shop. We are adapting to send love to everyone.
One way to be different is to collaborate with another charity. Fundraising fatigue is evident across the sector, so we wanted to pool resources and share the returns of our collective effort with The Mintridge Foundation. It is a foundation dedicated to enhancing life skills in young people through sport. Like us, the pandemic has set its challenges for this charity. And yet, they have found a way in the virtual world to bridge the gap between elite adults who are role models and young people who look up to them.
The Mintridge Foundation – harnessing the power of positive sporting role models
They have a team of Ambassadors – Olympians, Paralympians, and other professional sports stars from over 20 sports, both team and individual. They work with young people across the UK. Assemblies, coaching clinics, and classroom sessions can be tailored to each organisation's requirements. Their ambassadors can then provide one-on-one remote mentoring in a safeguarded environment, delivered via technology. This way they build a lasting legacy for individuals. Furthermore, you can get a feel for their work via their blog.
Our shared values
The values that both After Umbrage and The Mintridge Foundation share are kindness, caring for others, and valuing connections within our communities. With these values in mind, this Valentine's Day we want to help combat the loneliness many of us are feeling. To show everyone we care. The neighbour we meet at the coffee shop. Your classmates. A friend from the pub who we haven't seen for months. Your workmates who don't sit on the next desk these days. We tell them we miss you and we care.
Our two charities seek to show we are inclusive. As we reach out to spread a bit of happiness on Valentine's day, we include everyone. Here is a hug. A hello. Here is a 'I miss you'.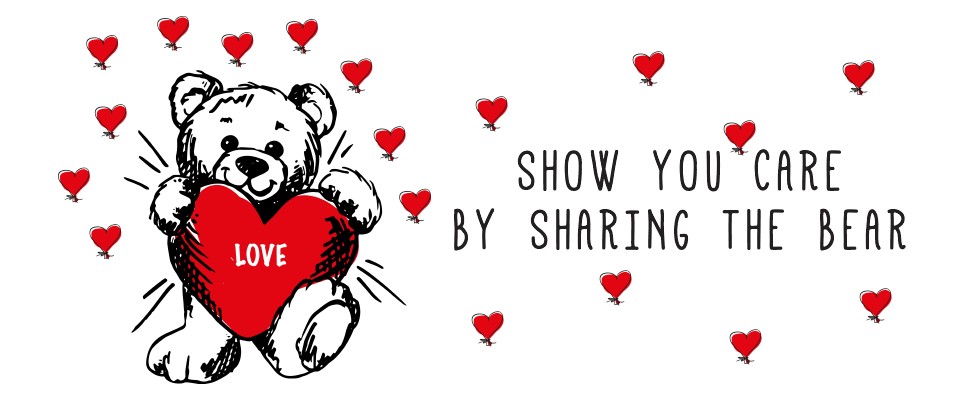 Share the Bear. Share the Love. Adapting to send love to everyone.
The theme of this Valentines event is just that. To show you care by sharing the bear.
What is the event?
It is digital. Easy to share. It is about caring. The rest you will have to wait and see. More news to come on Valentine's Day. Look in your inbox. Sign up for our newsletter if you haven't done so already. Look for us across the social media platforms. See you there!