After Umbrage makes a return visit to Cambridge to invite unpaid carers to Kingham Cottage and tell them all about the free holiday they can apply for. We visited the Carers Hub in Girton, Cambridge this week. It was a 'welcome back' by Laura Horne, Family Carer Coordinator at Caring Together. After Umbrage first met the Family Carers Team in November 2017 soon after winning funding from The National Lottery Community Fund for the first time.
We learned just before Christmas that The National Lottery Community Fund is supporting us for another year, so it felt absolutely right to return to the Cambridge Carers Hub to meet the family carers doing such amazing work.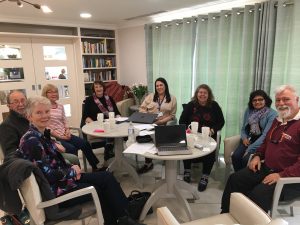 Our offer to carers
Caring Together support family carers of all ages across Cambridgeshire, Peterborough and Norfolk. They are one of our 120 Carer Support Organisations. Our visit was to offer all the carers attending a free break at Kingham Cottage – our cozy retreat in Coombe Down, near the City of Bath. It is free for carers of loved ones living with a life-limiting condition to come and have a free holiday of up to four days. There are no catches. Put simply, it is an opportunity to rest, re-charge and return, feeling rejuvenated.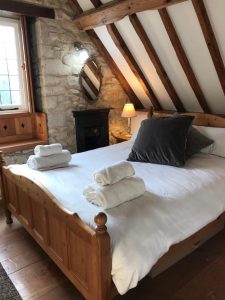 'I wouldn't describe myself as a carer'
There were some familiar and new faces in the group and they had a great deal in common. They all showed feeling and compassion for their loved ones and devote their time to caring for them whilst asking nothing in return. It's a challenging role and many of them wouldn't describe themselves are carers. They are simply looking after someone dear to them. Someone who can no longer do this for themselves.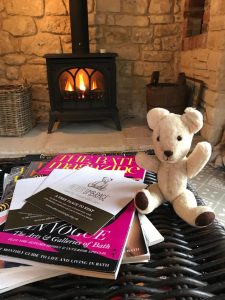 Jackie and Marilyn make plans
The good news is we walked away with two new referral forms. Jackie thought of taking a break with her daughter. Marilyn would like to go away with a member of her family too. We look forward to welcoming them to Kingham Cottage. There are two bedrooms to choose from – a double and a twin – so carers can decide what works best for them.

A kind offer
One of the carers offered to support us by displaying our poster in their GP Surgery waiting room. This is a great example of a little help going a long way. Raising awareness is integral to our success. Would you like to help this way too? Please drop Tara Belcher an email at tara@afterumbrage.org.uk with your address and we'll send you a poster and some leaflets. Thank you.
Family Umbrage
It gave us much pleasure to offer everyone at the carers hub an invitation to Family Umbrage. This is our newly launched private digital forum. It's designed to connect After Umbrage beneficiaries and supporters easily so conversations about anything that makes this connection more enjoyable can happen. This is quite challenging otherwise. Our beneficiaries come from every corner of England and Wales: Doncaster to Dover, in fact.
Would you like an After Umbrage visit to your carers hub, hospice or hospital?
Please do get in touch and we'll do our best to arrange it, geography and funding permitting.