PART ONE
After Umbrage beneficiaries often come forward to tell their heart-warming stories of resilience, family strength and kindness. Sarah Potter is one such lovely lady. We are delighted she found After Umbrage and are proud to share her story here, in two parts, as there's simply too much to share in one alone. Here Sarah tells her Harry Potter story.
Sarah's Story
Sarah Potter, who lives in Suffolk, lost her father to lung cancer in 2018 after he'd made a full recovery from oesophageal just two years earlier.
Through her work at Suffolk Family Carers, she heard of After Umbrage and Kingham Cottage and enjoyed a stay there late November 2019. She stayed with her Mum, Glynys, sister Georgia and brother, Kristopher.
Sarah says, "This was really special because not only was the break wonderful, but Mum and Dad had visited the Bath Christmas Market on a train trip a few years before."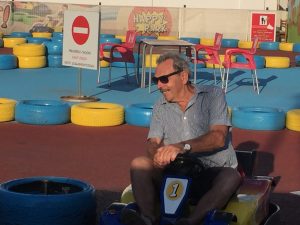 We didn't feel like we 'cared for him'
"Our Dad was Christopher Harry Potter. You can only imagine how many times he was asked Harry Potter??? And he was……… amazing, brave and strong, as well as kind, gentle, calm….. and stubborn……the list goes on. To sum him up, he was and will always be THE BEST!" says Sarah.
Sarah tells her Harry Potter story …
"I don't really think any of us would consider that we 'cared for him' but I know most carers say that. We just did what we could and in a lot of ways he made it 'easy'. He never complained, never moaned, never said why me? In fact, he said, "Why not me?"
Sarah's Dad was never unwell – she doesn't think he really knew what seeing the doctor was like.
So it all came as a bit of a shock in August 2015 when an upper gastro endoscopy highlighted a mass in his oesophagus. It was pure fluke, that he saw a different doctor than usual, and he happened to mistakenly say his brother died of bowel rather than bladder cancer. From that point, the doctor dealt with things far more seriously and referred dad straight away.
Fast forward two weeks and a gastroenterologist told my dad not to worry. Yes, it was cancer, but the future was bright.
It wasn't. A second appointment revealed the need for an operation – a 10-12 hour highly risky operation that many people did not survive.
Fast forward once more to January 14th, 2016, Dad celebrated his official birthday and the consultant was pretty sure he'd removed all the cancer.
Great at keeping us informed
Recovery is huge after such an operation and Dad was amazing, as he was throughout. Great at keeping us all informed, letting us be part of his journey, never leaving us guessing what might be.
For a spell, everything looked good. Dad went back to work after his last round of chemo. Remarkable when this rarely happens after this kind of operation.
Naturally, we had doubts and so asked for another scan. But they wouldn't do one. On reflection, we should have pursued a private one but Dad wasn't that worried.
In 2018 we were due to go on a family holiday to Majorca. It had become a regular thing for us and Dad loved it. An outpatient appointment gave the all clear. We were convinced he was losing weight but the scales didn't say so. So he was moved to less regular monitoring.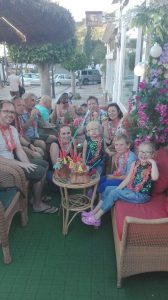 Dad mentioned he was feeling a bit tired so blood tests were arranged.
In the lead up to the holiday, Dad lost his voice. He even didn't go into work one day because he felt rough. Alarm bells didn't really ring, because so many people were telling us we needed to move on. The doctors gave assurances and booked him in for an iron infusion on return from holiday.
Go on holiday they said!
Whilst on holiday Dad mentioned that his sight was affected. One day, Mum and I simply looked at Dad and at the same time thought 'stroke'.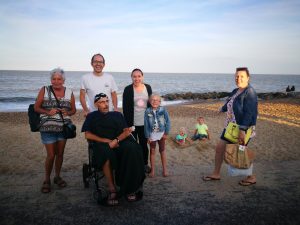 What happened next is a bit of a blur.
The result was Dad being admitted to Palma hospital for the rest of our holiday. We were told he needed urgent oncology and neurosurgeon input. We had one last trip to the beach with Dad, fearful it would be his last.
After a traumatic return flight, we went back to the doctors.
Lung cancer was confirmed and that it had spread to his brain and spine. Lung cancer in the brain.
"Not oesophageal cancer. He had cleared that!", says Sarah.
What were the days ahead like?
Christopher was in hospital some of the time and we'd take turns visiting. They continued working for a while but as things got harder, Sarah and her family knew it was time to be with their Dad as much as they could.
As soon as they said no more treatment, they got Chris home as soon as possible involving a lot of practical stuff: moving things, waiting for deliveries. You can imagine.
Sarah says, "When Dad was discharged we were referred to the hospice at home service. We said it's okay. We want to do this alone. But a lovely nurse said why don't you just let them come a couple of times. And do you know, I don't think we could have done it without them. They became just like family."
Thank you Sarah for telling your Harry Potter story. We continue Sarah's story in Part Two, here on the After Umbrage blog.