"I've given up my career, lifestyle and ambitions to concentrate on caring, initially for my disabled Dad, and in recent years since his death, I've put this time in for Mum. She is my angel and the most precious thing in my life." Andre Tarassians, Beneficiary of After Umbrage
Stories such as Andre's need to be told to give unpaid carers a louder voice and to help bring our community of carers together – not physically as that's challenging with beneficiaries from Doncaster to Diss and Glasgow to Gloucester – but virtually, through the written word.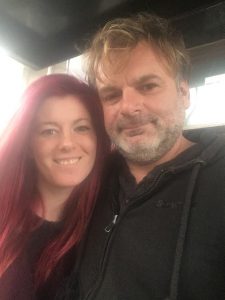 Andre and his wife, Nicole, (pictured) visited Kingham Cottage for his Birthday early in October and as self-confessed foodies, enjoyed the variety of nice places to eat and the culture and shops of the City of Bath. They thought the walk along the canal was exceptional. They first heard about After Umbrage and Kingham Cottage by reading about the charity in their Carers Trust regional magazine.
Tell us more, Andre, about the changes you've made in your life?
"I quit my life in London to come home and care for my disabled Dad initially. I used to edit American programmes for broadcasting company Technicolor which merged with Ericsson and is now Red Bee Media.
Dad was in poor health and my Mum was struggling. So I made a big decision and packed up my life in London and came to Hastings to look after him. He passed away 2 years ago. My parents were together for over 55 years so it hit my Mum hard. She has many health conditions herself. She is 80 and she needs full time care as she has many complications."
"A typical day entails helping Mum with dressings every morning, washing and medication administration. Mobility is an issue, so I help her with that too. Mum needs regular attention and frequent doctors and hospital appointments. It has been constant."
What did a visit to Kingham Cottage mean to you?
"It was truly a breath of fresh air as I have not been able to take a holiday for a long time due to my Dad's illness and now looking after Mum. As she needs constant attention, I've not been thinking about myself much at all. So this was truly a very relaxing and positive experience for me, for which I can't thank After Umbrage enough."
The cottage guest book
We read a couple of entries in the guest book. It was lovely hearing about others' experiences of the cottage and the area and personal stories of other carers.
Andre has inspired the team at After Umbrage to create a beneficiary forum – a secure online space to share restaurant and café tips, favourite walks in the countryside, cultural days out … but much more too.
We'd like the forum to be a place for carers to connect, to tell their stories, to support one another. The life of caring for a loved one can me a lonely role. Many of our beneficiaries say they feel unnoticed and unvalued. We'd like the forum to go a small way towards addressing that.
We'll share more on this in due course ….
Signing off
We asked Andre to sign off his story and he wrote, "A big thank you for giving us this opportunity to relax in a beautiful cottage and the location was also amazing. Many nice walks 🙂
We thank Andre for sharing his story and invite you, our beneficiaries, to get in touch. If you'd like your story to be shared here on our blog, we'd love to hear from you. Please get in touch with Tracy via tracy@afterumbrage.org.uk. With thanks!