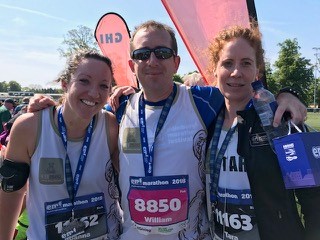 Time seems to fly by these days and suddenly I was begrudgingly toasting my fortieth birthday with a bunch of fantastic friends.
I am lucky enough to have kept in touch with some wonderful mates from college and we reminisced about the happy times mostly spent at the bar. It is amazing how quickly twenty years can fly by. We have been through the good and the bad times together and have always been there for each other. It's a privilege to have such a great bond especially though the tough times.
So, what better time to challenge ourselves and do something to support others too.
"Lets run a marathon!"
It was possibly Gin-induced but heart felt and we duly signed up the following day.
Edinburgh Marathon Festival here we come!
So the hard work started. I have always enjoyed running, I find it really helps clear the mind, it's not always comfortable but great for finding a bit of peace or releasing a bit of rage if necessary!
The training though was brutal! The weather was against us and the constant pounding along in snow and rain was not at all fun, it was draining to say the least.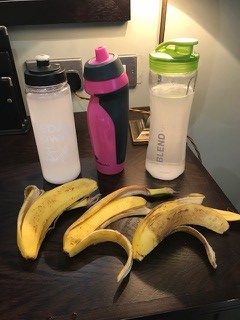 Luckily our 'Running Up North' Whats App Group kept us all motivated! I won't repeat some of the comments, but it's safe to say we all felt the pain and frustration. In my head, I had images of us all skipping happily through the countryside feeling fabulous, but then I have always been a bit of a daydreamer!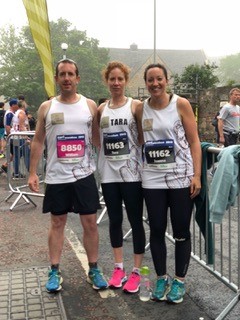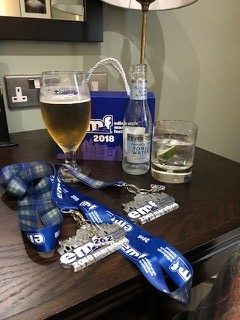 Now obviously the most important and real reason we signed up was to raise funds and awareness of After Umbrage. I am so proud of what we have achieved so far. There are literally millions of people in the UK who are caring for their loved ones. Hands down to them, hands down to you, you are wonderful.
A free stay at Kingham Cottage is a small offer but an important show of appreciation for the tears, laughter, love and selfless dedication it takes to support a loved one with a life limiting condition. Of course, it is necessary and happens without question, but it is important to take time to look after yourself too, so that you can continue to care for others. After Umbrage is here to offer a break away so that you can continue to do just that.
With that in mind, we ran the miles and determinedly got through the long training runs and on the 27th May 2018 stood together at the start line.
Jo Eastwood and Will Munro smashed it, we all did! I could not be more proud of my amazing friends. They were brilliant! We raised £2553, which is fantastic and will help us continue to care for those care. Thank you to all the wonderful, generous people that supported us!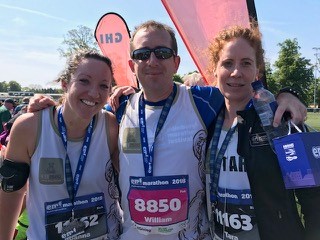 Another dream is to raise enough money for the next Umbrage cottage, it's a reach but then again we love a challenge…