We chat to Sam Woodfield to learn more about how his cycling brain ticks. We want to learn more about how Sam has reached this point to take on the 1,000 km cycling challenge starting on Tuesday 28th December. He is doing this challenge to support families whose loved ones have suffered with cancer. And, he is doing it to encourage the development of life skills in young people through sport.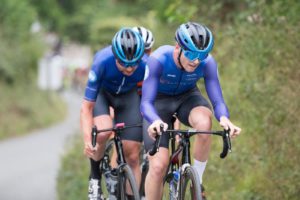 Tell us more about your cycling history
"My cycling passion – or perhaps some would call it an obsession – started after the passing of my late mother Susan. I transformed myself from a gym-goer into a cycling fanatic quickly!
I got myself a coach and started entering sportives and joining in local cycling club rides. After a few months, I figured I had a decent size endurance engine due to many years of swimming.
I started entering races and throwing myself into the deep end of competition. Racing in the Far East and representing my country at the Age Group World Championships in Perth 2016. I finished in 31st place.
After returning to the UK from the Far East, I swiftly moved myself up through the British Cycling ranks and categories achieving my Elite status at the end of 2018. It was also the first year of running my own elite-level racing team. The team has continued to grow and expand and will enter its 4th season in 2022.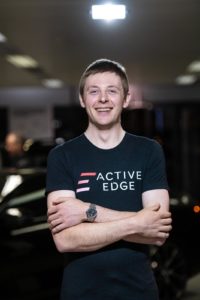 What are your greatest achievements?
My greatest achievement to date is starting my own elite-level cycling team. It has a strong ethos around mental and physical wellbeing. This was important to me especially after my early days in the sport. I have nurtured and coached riders to progress and compete at the highest level within Europe and the U.K.
My greatest personal achievement is finishing 2nd in 2018 at the Eastern Region Divisional Championships, before going on to finish 2nd a further four times that season.
Which routes are your favourites and why?
I have two favourite routes.
The first one is my form finder route around the Rutland lanes. It is 82 miles and 6,500ft of clinking. I know – if I finish the route in under 4 hours – I am in good racing form and ready to hit the racking season.
My other favourite routine route is out in Majorca and it is the famous Cap de Formentor lighthouse route. It has everything a route should do, views, climbs, descents, tunnels, lakes, and smooth tarmac!!
Good luck Sam
We wish Sam every ounce of energy and mental strength he needs to fulfil the winter cycling challenge he starts on Tuesday 28th December 2021. Four days of grueling cycling and 1,000 km follow.
Please support him by donating to his two chosen charities. We are one of them. The second charity is The Mintridge Foundation which is dedicated to enhancing life skills in young people through sport. You can read more about Sam, his challenge and donate via these links. As we write he has hit 20% of his fundraising target: over £500 which is amazing! Go Sam, you have got this.