Let us introduce Lucas Spencer of Stratford-Upon-Avon to you. He is part of the Bath University project team that chose After Umbrage to raise awareness for and to fundraise. He – along with Jack, Lily, Dom, Marta, and Grace – has been introducing After Umbrage to a new audience. That audience is university students and their networks. The project is part of their Business Studies degree course at Bath University.
Growing up, Lucas lived next door to a disabled girl. This highlighted for him the essential nature of the work of family carers. He noticed the tireless schedule they endure and how important it is to empathise with everyone around you. You don't know what people are dealing with.
What made you choose Bath and the course you are on? 
BSc Business Administration has a reputation for practical application when learning about corporate processes. The opportunity to gain exposure to real world problems both within the course unit's (Social Entrepreneurship Action Project, Final Year Project) and within two professional 6-month placements made me particularly excited to join University of Bath Alumni. 
What is the highlight of your course to date? 
"My favourite moments from the course thus far would undeniably be my first placement and getting involved with all University of Bath has to offer. I love going to the Gym and playing tennis. But I had a really great experience for future development with my placement. I'm excited to continue such development on my second placement with Northern Trust in Canary Wharf."
Were you aware of the number of people caring for loved ones in the UK?
The fact that 1 in 8 people care for loved ones really emphasises the fundamental position they hold within society.
About the project, what part are you enjoying the most?
I have really enjoyed communicating with the After Umbrage team and working together to produce a strategic action plan. Tara and Tracy (After Umbrage leads) are examples of the kind and caring soul that the After Umbrage team represents.
What change or impact would you like your work to have?
I think something key for Tracy and Tara was to improve the awareness of After Umbrage on social media. Also, to raise money for the charity to contribute towards their second cottage. These are the main aims of our project.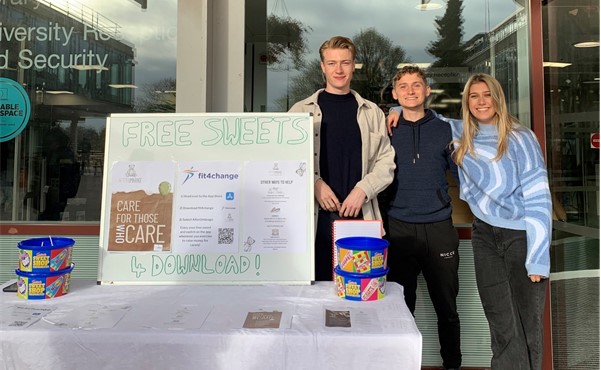 We thank Lucas, Jack, Dom, Lily, Marta and Grace for all their enthusiasm and hard work. Their contribution has been terrific. You can meet the other members of the Bath University project team here on our blog.