Suzy Piazza and her family are one of 190 carer families who have visited Kingham Cottage. She was thrilled to stay at Kingham Cottage and has kindly written this blog post for us. She captures her thoughts to share with other carer families who are coming to stay. In so doing, she also sheds light on why paying guests are welcome to stay too. When they book with us they are reminded that 100% of their booking proceeds go towards giving families like the Piazza Family a free break.
In Suzy's words…
This year has been particularly hard on everyone all over the world. Many carers have lived with the fear of their vulnerable loved one catching Coronavirus. And the very strange world of lockdown – which by its very nature cut us off from any outside family support. Sadly, and totally unexpectedly for us, my Daughter in Law's mother died of Coronavirus on the 27th March 2020. It was after lockdown had begun so we were unable to support or help in any way. No hugs, only words of support from afar.
A small family
We are a small family. There is my husband, who I care for, our son, his wife, and one beautiful three-year-old granddaughter, Esme. She is the light of all of our lives. My husband has been fighting the lasting and worsening effects of sepsis these past four years. With sepsis, he is experiencing many other age-related health problems. He's unable to walk more than a few steps without stumbling so he rarely leaves the house anymore.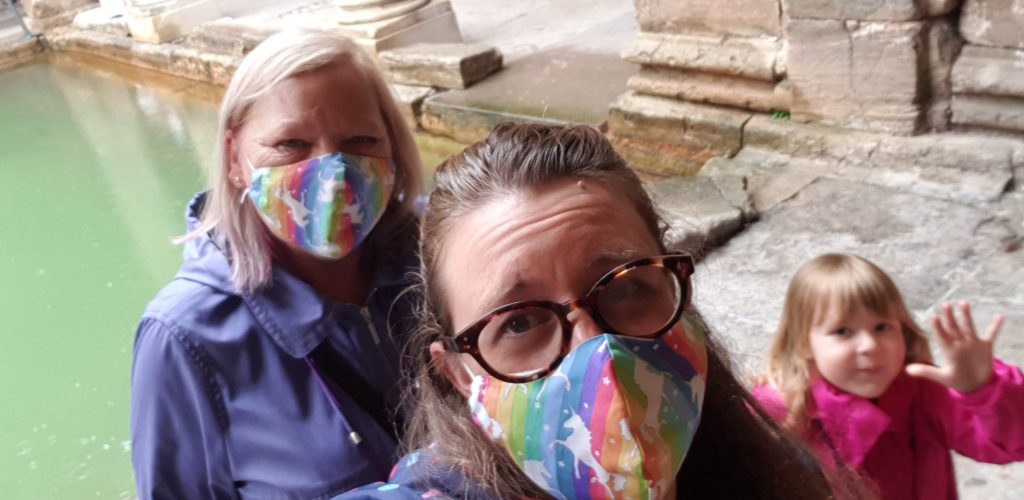 Thrilled to hear about After Umbrage
When we were offered the chance to stay at Kingham Cottage we were thrilled! We became aware of After Umbrage via Northamptontonshire Carers. They gave us a form to fill in which my Husband's doctor authorised. Easy as that!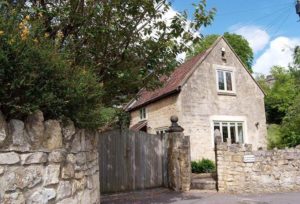 First sight of Kingham Cottage
From first sight, the cottage looked very welcoming. It's golden brickwork was glowing in the late afternoon sunlight. My Daughter in Law and Granddaughter both ran excitedly up the garden path wanting to be the first to see where we would be calling home for the next four nights.
It was far more than any of us had expected. From the very comfortable sofa, the well-equipped kitchen including the pint of milk. That was much appreciated by the way. There is nothing like a cuppa to help settle yourself into your new surroundings! And there was more… the beautifully made staircase, the scrumptious bedrooms, and lovely bathroom with a roll-top bath and a big shower. Whilst unpacking the car I had the pleasure of meeting Kath from After Umbrage whom I recognised from social media. She was a mine of good local information and it was very pleasant to spend 10 minutes chatting.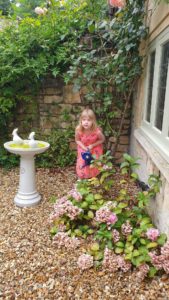 We settled in very easily
There's plenty of storage for clothes and the few toys we had brought along. We drove to Morrisons which was about a 15-minute drive away to buy a few groceries and to have a bite to eat. After being at the cottage a couple of days we did find that one way into town was far trickier than the other. If we followed Sat Nav then it took us through the large public school ground which has some very narrow roads. And, if you come across another car traveling in the other direction it can be quite a hair raising experience. And it seems to take much longer. By day two we decided it was much easier to turn the car around and go back into Bath.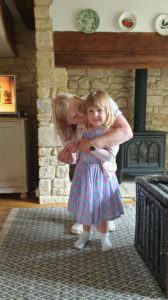 Took full advantage of exploring both Bath and the local area
During the three full days of our stay we explored the city and the countryside. The weather wasn't great considering it was August but we had listened to the weather forecast before we left home and had come prepared so had wellies and raincoats. We walked down the hill via the footpath just outside the cottage and up the hill where my Granddaughter was delighted to find a play park. She spent at least an hour exploring, making the hard walk up very worth it in her eyes. On one night we had a very heavy storm where the wind and rain battered the earth and whistled around the building. We lit the fire, closed the curtains and got cozy. We felt very well protected by the very thick stone walls.
Great Italian restaurant
We found a great Italian restaurant called Joya where we had a lovely early evening meal and then enjoyed a stroll along the river bank to walk our dinner off! 
We would definitely recommend visiting Bath. It's a very special and beautiful city and really not too large to walk around. We had never visited Bath before and had great fun exploring everything it has to offer including trying a Bath bun with a cuppa!
Wonderful to recharge batteries
The cottage is a wonderful place to stay to recharge your batteries, either by exploring as we did or by relaxing and chilling. It really is a home from home and anyone using it will be very happy with everything including the cleanliness. The cottage was spotless and obviously cleaned to a very high standard.  
We thank all at After Umbrage for making our break very special and for the memories we will carry with us for a very long time.