With the support of The Big Lottery Fund, we have been building relationships with hospices and other charities to raise our profile and provide a vehicle for reaching more carers. We are keen to open the doors of Kingham Cottage to more carers each year and this is one way we are achieving this.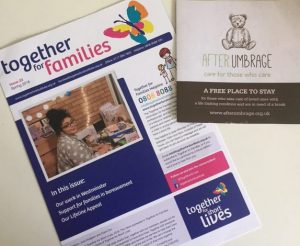 One such organisation is the amazing Together for Short Lives, a UK wide charity that speaks out for all children and young people who are expected to have short lives. They support carers and their families with practical information, emotional support and bereavement and so much more. Our founder, Tara Belcher, has been in conversation with their communications team and the result is, After Umbrage is featured in the Spring 2018 newsletter – the middle spread too.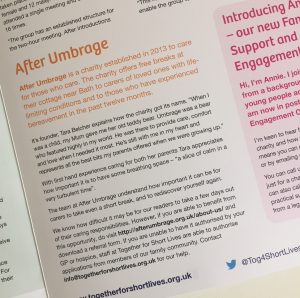 The article gives an introduction to the work we do, explains how we got our unusual name and describes that all you have to do to apply for a free break is to download our referral form from our website. It's so easy. We are very pleased to have this opportunity to become a household name with more families.
If you could, please help us with our efforts. Perhaps share this article and encourage people you know who might benefit from our kind or support to sign up for our newsletter.
Thank you, as ever.