Beneficiaries of After Umbrage are carers of loved ones living with life-limiting conditions. For them, life contains perpetual rounds of hospital visits, form filling in, and sleepless nights. They worry about what the next day will unfold. They are constantly on the go, feeling unwell themselves but have no time for self-care. Furthermore, often they do the caring alone. Support is available but it can feel like a minefield to navigate, particularly in the early stages of care. That's why we want to provide top tips to book a break. We want it to be easy.
Carers of loved ones living with a life-limiting condition truly deserve it
We respect this and seek to make it easy to book Kingham Cottage for a free break.  Here are our five top tips to book a break.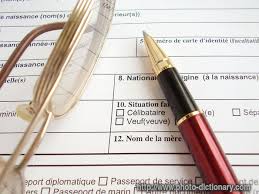 Finding the referral form
Every page of our website contains a copy of our one-page referral form.  You will find it in the banner underneath the photograph collage and menu on each page. You can download it very quickly, it's short and it's easy to complete. Alternatively, our leaflets contain the short form also.
Who can authorise my referral form?
The 'Surgery/Hospice Stamp' can be signed for or stamped by any Carer Support Organisation (CSO) who can certify that you are a carer. That might be your GP, your social worker or nurse manager at your hospice, the carer support worker at your region's Carers Trust team, a member of Family Voice… the list goes on. We are looking to verify that you are a carer so that our cottage is used by people who truly deserve a free break. Our growing network of referrers are our eyes and ears and they authorise your role as a carer of a loved one with a life-limiting condition.
Choosing the dates you'd like to visit
Once your referral form is complete and ready to send to us, you can have a look at our calendar of availability which is here. By jotting down your preferred dates on your referral form, you can speed up the booking process. In most cases, we can give you the dates you choose. Please note, we cannot reserve your dates before you send us your referral form.
Our receipt of your referral form is the first step in the booking process. The second step is reserving dates.
Why is a hard copy of the referral form needed?
As a charity, we conduct ourselves following strict rules. We are clear that our beneficiaries are people caring for loved ones living with a life-limiting condition. The hard copy certified referral form is our record of all our carer visitors who have been authorised by our network of referrers. We recognise fraudulent forms – that we have received from time to time – and we can take steps to ensure only our beneficiaries receive a free break.
What is a life-limiting condition?
Our beneficiaries are all carers of loved ones living with life-limiting conditions. Cancer and spinal muscular atrophy or similar are examples of life-limiting conditions. Your CSO will know if your loved one's condition qualifies. To help you, here is a Directory of Life-Limiting Conditions created by Together for Short Lives.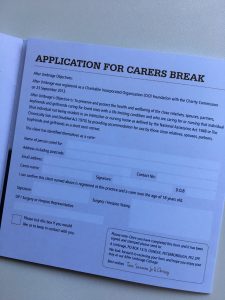 Our short, easy to find referral form is designed specifically to make it easy for carers to apply for a free break. We hope you find these top tips to book a break helpful – making it even faster to apply. If you have any questions about the referral process please contact us via hello@afterumbrage.org.uk. Thank you. We look forward to welcoming you to Kingham Cottage.