It was our radio debut for After Umbrage yesterday and we enjoyed a little moment of fame as we were interviewed by Jeremy Sallis on his lunchtime show on BBC Radio Cambridgeshire.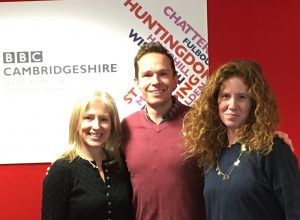 It was a great opportunity to talk to people living, working, visiting and studying in Cambridgeshire and Peterborough and tell them our story. We explained that our offer of free respite breaks for carers of up to four days and three stays at Kingham Cottage near the city of Bath is available to every carer in the UK caring for a loved one with a life limiting condition.
In case you missed it, you can listen to the interview of Tara Belcher, Founder of After Umbrage and Tracy Wilkinson, Campaign Leader talking on the show. The conversation is in two halves with music, travel and news in the middle. Please do listen to the end of the recording as Jeremy Sallis explains how you can get in touch via Social Media: Facebook, Twitter and Instagram as well as signing up to our newsletter which makes it easy to share our news electronically with your network who might like to come and stay at Kingham Cottage.
We talked about just some of the benefits to carers of a free break, mentioning wellbeing, emotional and physical health and combating loneliness as beneficiaries often tell us that being at the cottage really reminds them that someone is looking out for them and they are not alone.
Looking forward to welcoming listeners of the show to the After Umbrage cottage.