Vanda Rorbach, beneficiary of After Umbrage, became a carer for her Mum, Lynne, six years ago. Lynne has frontal temporal dementia and last year was diagnosed with cancer. Her Mum has never smoked and doesn't drink so it was a huge shock. As a very active woman all her life – sometimes holding down two jobs at a time – Lynne understandably feels frustrated. It is Vanda's role to be there for her – distract, nurture and support.
Vanda says, 'I love being part of the After Umbrage story. It's amazing. I always make sure others know about the charity so more full time carers and their sick relative, partner or friend can relax in the knowledge that there are services out there they can use and are amazingly beneficial.'
After Umbrage caught up with Vanda to learn more about her world.
What are your struggles and your joys as a carer?
'I sometimes struggle with the stress of my mother's mood changes. It can cause me a lot of anxiety if I don't keep myself calm. I love my mother and love that I get to spend so much time with her. It is really rewarding knowing she trusts and relies on me. We do have a great routine and it works well for us even if some people might find it strange. We do the best we can for the easiest life. I sometimes struggle seeing my mother so fragile but I feel appreciated knowing I am helping her as much as I can.'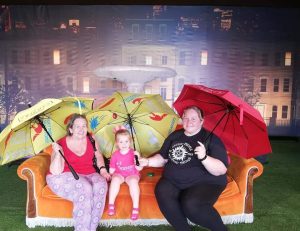 When did you visit Kingham Cottage and did you enjoy your stay?
'I visited in April 2018 just after my mother had an operation to remove part of her kidney. She needed some rest and relaxation and Kingham Cottage provided just that. We visited the local area when mum felt up to it. Also, we had lots of family time all snuggled up in the cottage. The views are amazing and the walks, if you can manage it, are breath taking.'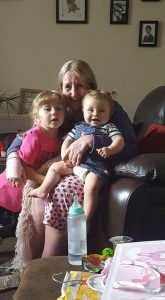 'We brought our two little dogs, Roxie and Sookie, as mum won't travel without them. They loved the little garden and the fresh air, as we did. The Roman Baths were on our wish list but with mum having stitches, were unable. We are hoping to visit them next time we visit Kingham Cottage. We returned home really refreshed and happy. So thank you so much for allowing us the use of your lovely cottage.'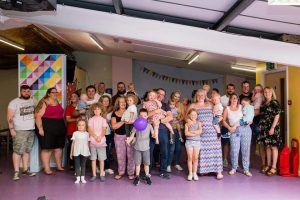 The After Umbrage Community
Vanda says, 'The guest book at the cottage gave an insight into all of the wonderful breaks other people in my position have been given. It warmed my heart to see how many people have been touched by After Umbrage and also to find that I am far from alone in my role. Sometimes being a full time carer can make life daunting but this made me appreciate what I have even more.'
'I cannot express how grateful we are as a family to have been given the opportunity to visit Kingham Cottage. There are a few schemes to help carers but this is by far my best find. I feel privileged to be a part of the After Umbrage community. I just want to thank you for providing this service for people like myself and we are looking forward to returning to Kingham Cottage next year.'