Welcome to our second guest blog post from our partner, Classic Cottages. The team there promote Kingham Cottage to paying guests, helping us raise money to keep the cottage available for carers for no fee. Here they give you a flavour of Bath and the surrounding area and share ideas about where to visit when you stay with us at the cottage.
Why we think the location for this wonderful cottage is the best of all worlds.
We really want to celebrate the area that our guests are going to be staying in and for Kingham Cottage it would have been easy to leave it at Bath with its stunning Georgian crescents, the famous Roman Baths and the imposing Abbey – not to mention great shopping, cafes and restaurants for all those much deserved treats. However, as well as including the famous landmarks we always dig deeper, encouraging visitors to explore a bit off the beaten track with ideas for walks, wonderful village pubs, markets and galleries to give guests the best experience of the area and a taste of the local produce too. So, here are some suggestions of things to do we'd recommend from your lovely base at Kingham Cottage.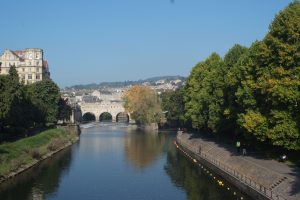 Rise and shine
Every holiday day should start in a special way so head up into Combe Down and tuck into an indulgent cooked breakfast or brunch at The Darling Deli www.darlingdeli.co.uk just up the hill from Kingham Cottage. Don't feel you have to limit yourself to breakfast though – tea and homemade cakes on the way home are just as good.
Leave the car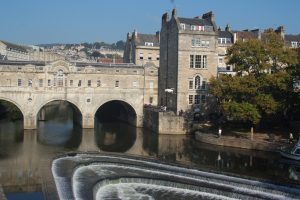 Just a short and convenient Park & Ride away (Odd Down Park & Ride) you can hop on a bus into Bath to take away any worry about taking the car into the city. There is nearly always live street music in the Abbey Square, outside the Roman Baths. You can while away several hours watching the world go by with never any need to rush to visit all that Bath has to offer in one fell swoop. Strolling along the beautiful streets leading to The Royal Crescent is a must and little side roads offer up cafes, art galleries and independent shops. Try Margaret's Buildings off Brock Street between The Circus and The Royal Crescent. Cross historic Poultney Bridge (Bath's version of the Ponte Vecchio in Florence) and wander up to Henrietta Park for a picnic lunch. Book a Twilight Spa Package for two at the amazing Thermae Bath Spa, with open air roof-top swimming pool and panoramic views over the city, in Hot Bath Street – where else!
The more active can stride out along the Bath Two Tunnels Circuit – a 13 mile circular canal walk – or hire yourself a bicycle from the delightfully named Brass Knocker Basin and experience one of the longest cycling tunnels in the UK.
Out of town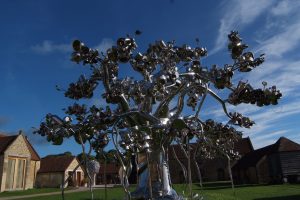 Bruton – for culture of the extraordinary, eye and mind-opening kind at the international Hauser & Wirth Gallery. It's an exquisitely pretty little place to visit, set in a valley with tiny winding streets to wander and idyllic country views.
Frome – for the monthly Vintage and Artisan Food Street Market in the St Catherine's area, which attracts people from far and wide. First Sunday of every month.
The Chew Valley Lake – for beautiful scenery, walks, picnics and of course for the wildlife reserve. This is the fifth largest artificial lake in the UK, all 1,200 acres of it.
Gardens and Historic Houses – Dyrham Park, Tyntesfield and Lacock Abbey will please history and garden lovers alike. Tyntesfield was one of those magical 'hidden treasure' houses that had been untouched for generations. The countryside around Bath is no doubt home to others waiting to be discovered.
At the end of the day though, whatever your interests might be, just staying put at peaceful Kingham Cottage, perhaps with a stroll to the Deli as your outing, is a perfect holiday in its own right.
Written by Anna Hamlyn, Property Manager, Classic Cottages.