Sara Bailey continues her story to help unpaid carers feel less lonely when going through challenging times. Her Mum was a fighter and Sara's family felt moments of hope despite being told her Mum had 12 weeks to live.
We featured chapter one of her story last month. Here we continue Sara's family story. It is told in the form of a letter to our After Umbrage.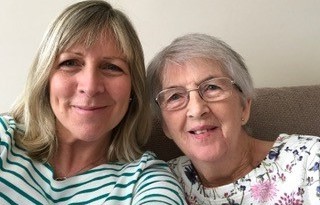 "The 12 weeks came and went," says Sara. Mum was clearly a fighter. The decision was taken to give her chemotherapy. So, we were given hope and our life changed – many appointments for treatment including weekly calcium and blood transfusions. Alongside Dad's medical appointments, we found this difficult but manageable. It helped enormously that I was supported by my employer and my amazing husband and two grown-up children who shared the load with me.
However, as weeks turned into months my employer was less supportive and started making inappropriate comments about my time off. Disappointing, when I went to great lengths to make up this time, even down to the last minute and more, because I'm so conscientious. However, I knew Mum was getting weaker. I could tell that she was not going to win the fight with the big C so I needed to do something drastic.
Needed to do something drastic
I handed in my notice. I was only three months in my managerial role of running a very successful, outstanding children's Nursery. Life was too short. I had to do what my heart was telling me. In this horrific situation, I was determined to have no regrets. It was the hardest thing I had done. I caused a massive rift with my once friend and employer. To this day she has never understood my decision. I didn't tell Mum and Dad my real reason for leaving as they would have been cross. So I began living a lie, pretending the job wasn't for me anymore.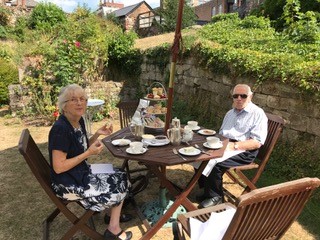 Day trips with Mum in her wheelchair
I finished work in the June of 2018 and spent a lovely summer taking my Mum -now very weak and in a wheelchair – out on day trips. We went to the flower show, shopping and out for coffee, as well as being free for all her appointments without guilt. I started a good routine with cooking and cleaning, became their Power of Attorney, and took over their paperwork. I was at their home every morning, afternoon, and evening.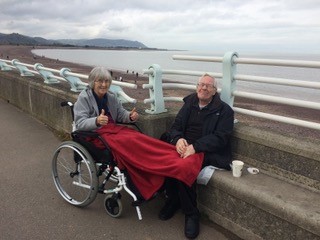 The roles reversed
My husband and I took Mum and Dad out on the steam train, for seaside visits and much more. He was amazing with them, and with me and my rollercoaster of emotions. My children were determined to take them out with their walking aids too and have the best memories of fun days trying to get them around at the local beach for fish and chips. They were very lucky to have the most amazing relationships with their Grandma and Grandad – who had given up their lives to look after them both when I went back to work many years ago! Now the roles were reversed.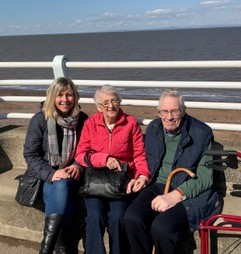 Together, we did our best
Together, we continued to do our very best. But I had given up a good job and salary so was feeling very sad about the past and not knowing how long we had to maintain this change.  I applied for a job in the primary school next door to my parents' bungalow. It was a step down from my previous career but with less responsibilities and hours so that I could work and care for my parents.
It worked a treat
I started a temporary contract of one year in September 2018. It worked a treat. I parked on their drive every morning, spent an hour getting them set up for the day before walking around to the school for my 8.45am – 3.30pm shift. I then went back to them after work and prepared their tea and other jobs for them. We had a brilliant system going that allowed them to be alone for some periods of time yet knowing they had a twice daily visitor set in stone plus drop-ins from friends and family.
Sara' letter and story continues in a future post to be published soon.