We are delighted to share that a very kind supporter of After Umbrage, Nick Goodchild, has been fundraising for us. He is an avid cyclists and loves a challenge so he took on a Century Ride – a 100 miles across Norfolk. That wasn't the only test he faced as the weekend he completed his fundraising ride was when temperatures reached 29 degrees.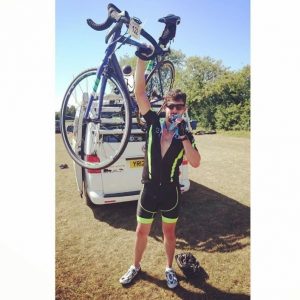 With Gift Aid, Nick has raised over £500 which will make such a difference to us. It will help us cover the costs that we incur with each carer visit such as clean bedding, towels and making Kingham Cottage clean and sparkling for our next visitors – paying guests of carers. Funds are still being raised which Nick and our lean After Umbrage team are very happy about. If you would like to support us and donate to Nick's total you can do so via this link to Virgin Money Giving.
There are other ways you can help us fundraise. We are soon to announce our Valentine Ball taking place near Peterborough in February 2019 and there is always Fit4Change. Many of our friends and family are using this new fundraising app to earn small amounts of money when they do their regular fitness routine. It's super easy to use and the hardest thing is remembering to switch it on each time you start your cycling, walking, swimming or indoor fitness class. The link here gives you all the details you need to get involved this way.
Thank you for your support, as ever!